Caramel Cheesecake is a no-bake dessert with a buttery shortbread crust layered with a glorious layer of homemade caramel and a smooth, creamy cheesecake filling. Then, it's topped with more crumbled shortbread cookies, dollops of whipped cream, and caramel for a sweet, rich, and tangy treat! If this sounds like your kind of dessert, you will also love my No-Bake Caramel Shortbread Pie.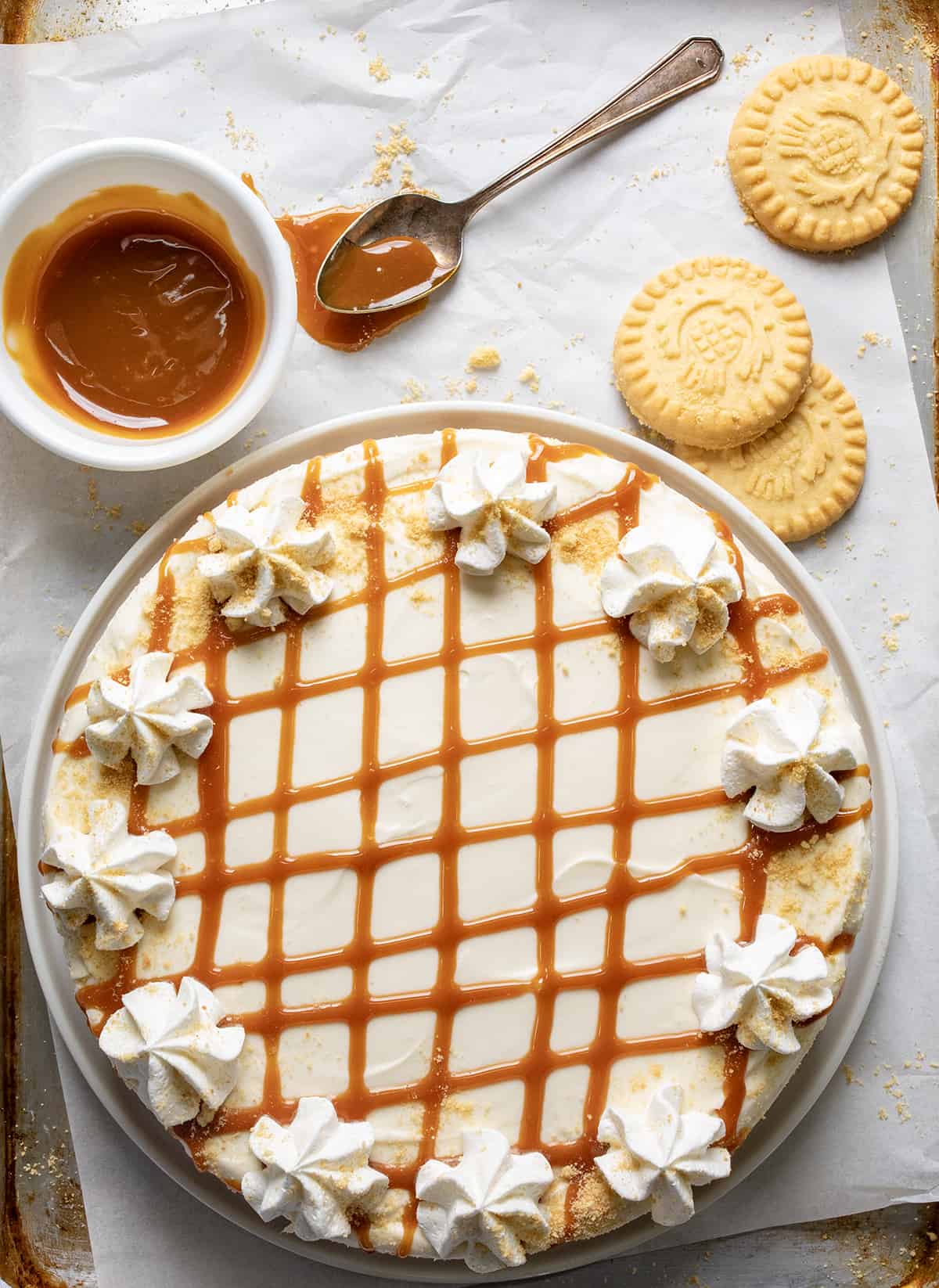 Ingredients & Substitutions
Crust: When coating the shortbread crumbs in butter, make sure they are completely coated. This is the 'glue' that holds the cookie crumbs together. You may also want to add extra shortbread cookie crumbs for the topping. You could use a store-bought crust or a graham cracker crust if preferred.
Butter: I used unsalted butter in both the crust and the caramel layer. It gives you more control over the salt in sweet treats like this one. If using salted butter, you may want to lessen or omit the salt.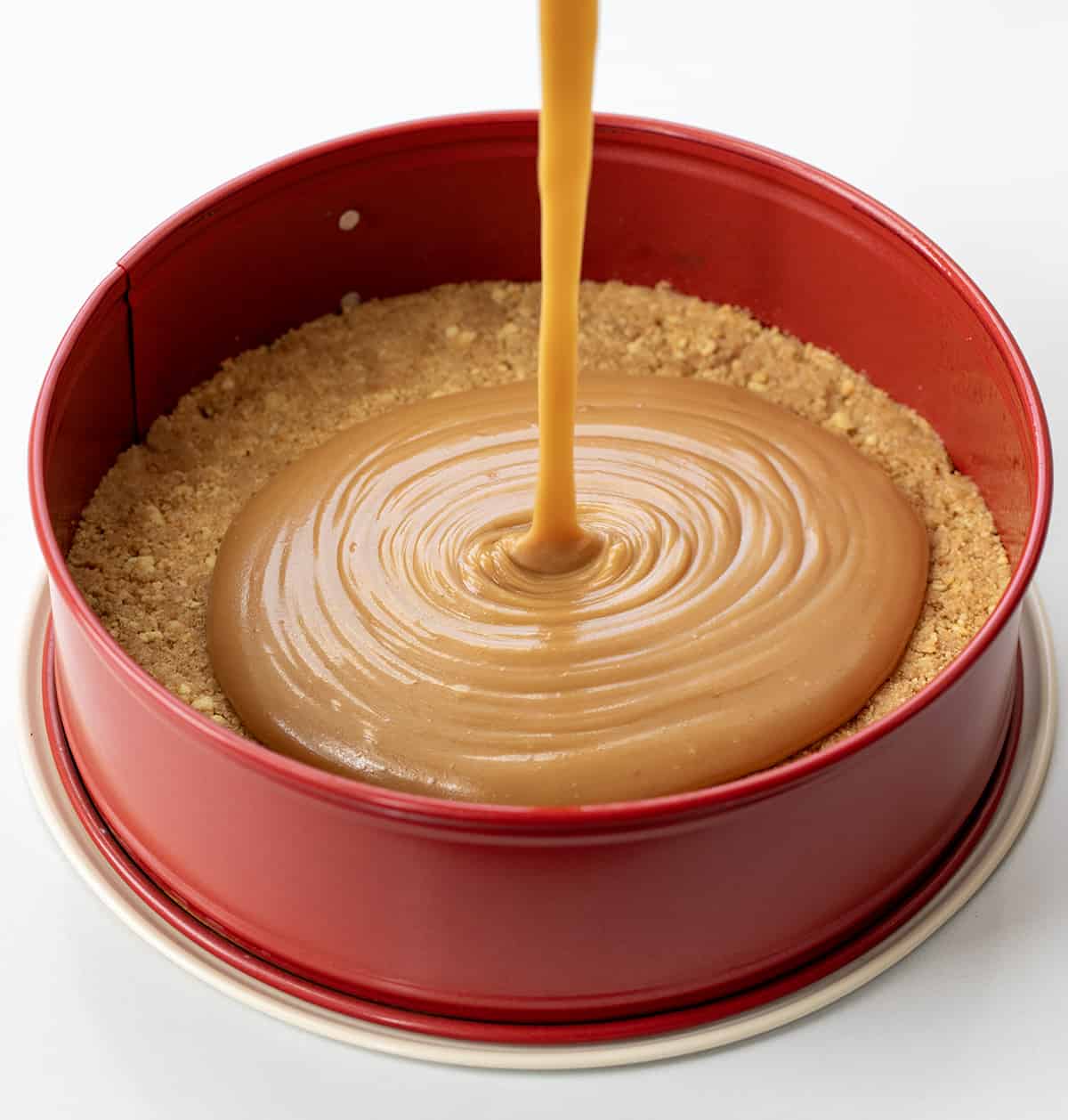 Sweetened Condensed Milk: You will only use half of a 14-ounce can of sweetened condensed milk (7 ounces). But, don't let the other half go to waste; it's the perfect amount to make my Strawberry Shortcake Trifle!
Corn Syrup: Light corn syrup is an important ingredient in this homemade caramel. It is processed from cornstarch and gives the caramel layer a smooth, glossy texture. It also keeps it from being grainy.
Brown Sugar: Light brown sugar adds flavor, texture, and color to the caramel layer. In a pinch, you could use dark brown sugar, which will intensify the flavor and color. It may also change the texture of the caramel a bit.
Cheesecake: The filling for this no-bake cheesecake recipe is made with a special ingredient, heavy whipping cream. Using heavy cream makes this no-bake cheesecake stand up to classic baked cheesecake.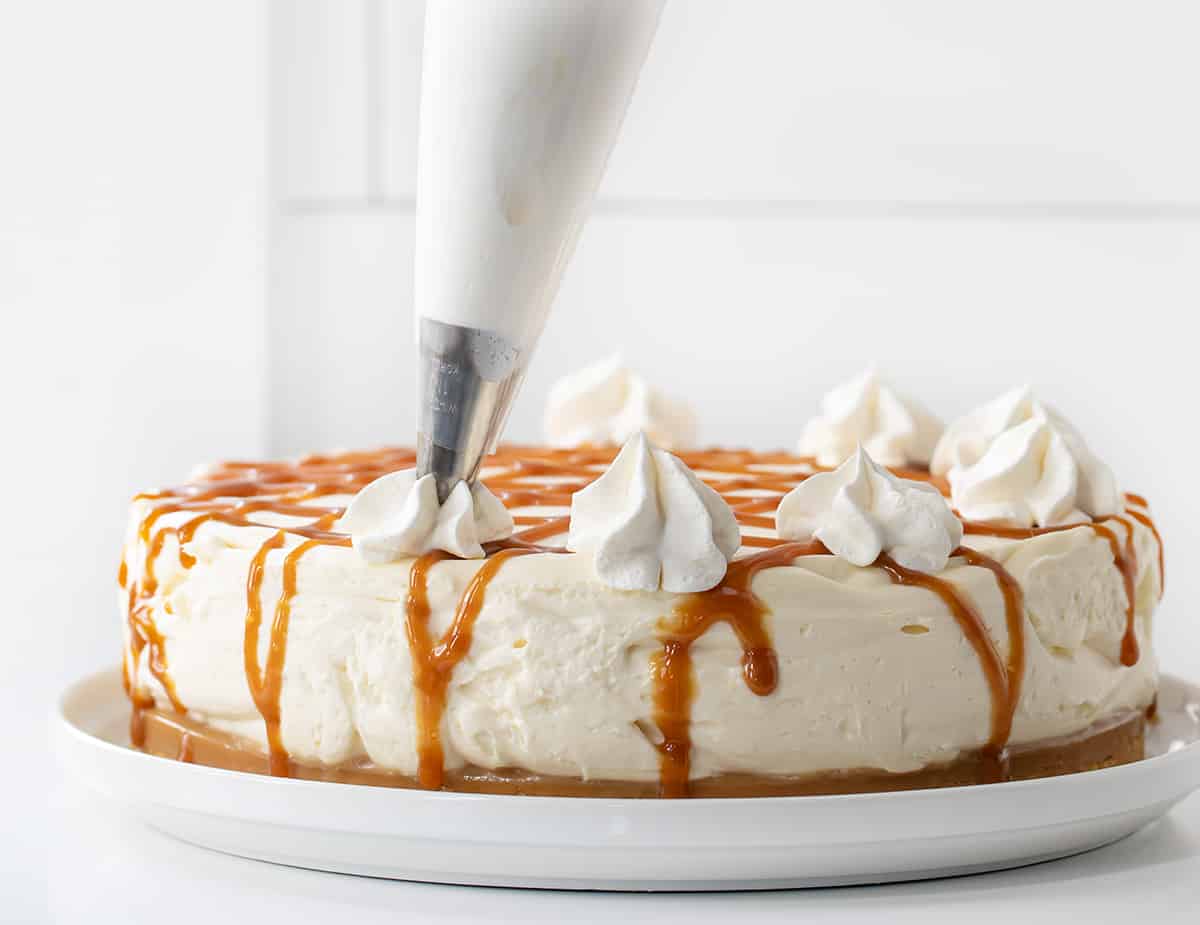 Individual Caramel Cheesecakes
It's easy to make no-bake cheesecakes into individual-sized portions. It's a lovely way to serve the dessert. First, prepare the crust. Next, press an equal amount of crust into each serving vessel, like ramekins. Then, make the caramel sauce as instructed. Top the crusts with an equal amount of caramel and chill the cheesecakes in the refrigerator. When ready, make the cheesecake filling and add an equal amount to each ramekin, over the caramel layer. Place the cheesecakes back into the refrigerator to set for at least 6 hours, up to overnight. When ready to serve, top each with a dollop of whipped cream, a sprinkle of shortbread cookie crumbs, and a drizzling of caramel sauce.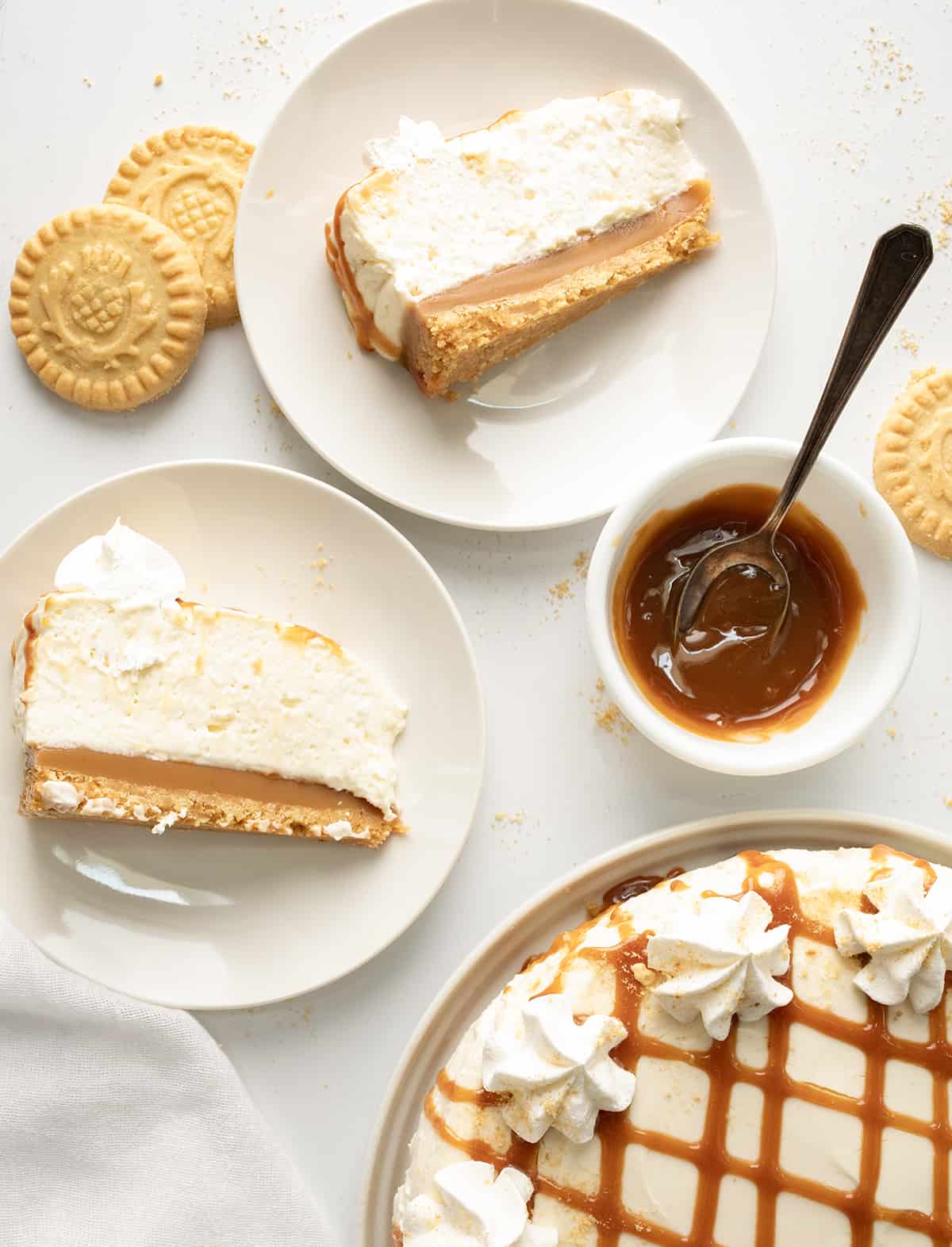 How To Store Caramel Cheesecake
To store Caramel Cheesecake, cover it loosely with plastic wrap. Then, store it in the refrigerator for up to 2-3 days. For longer storage, freeze the cheesecake.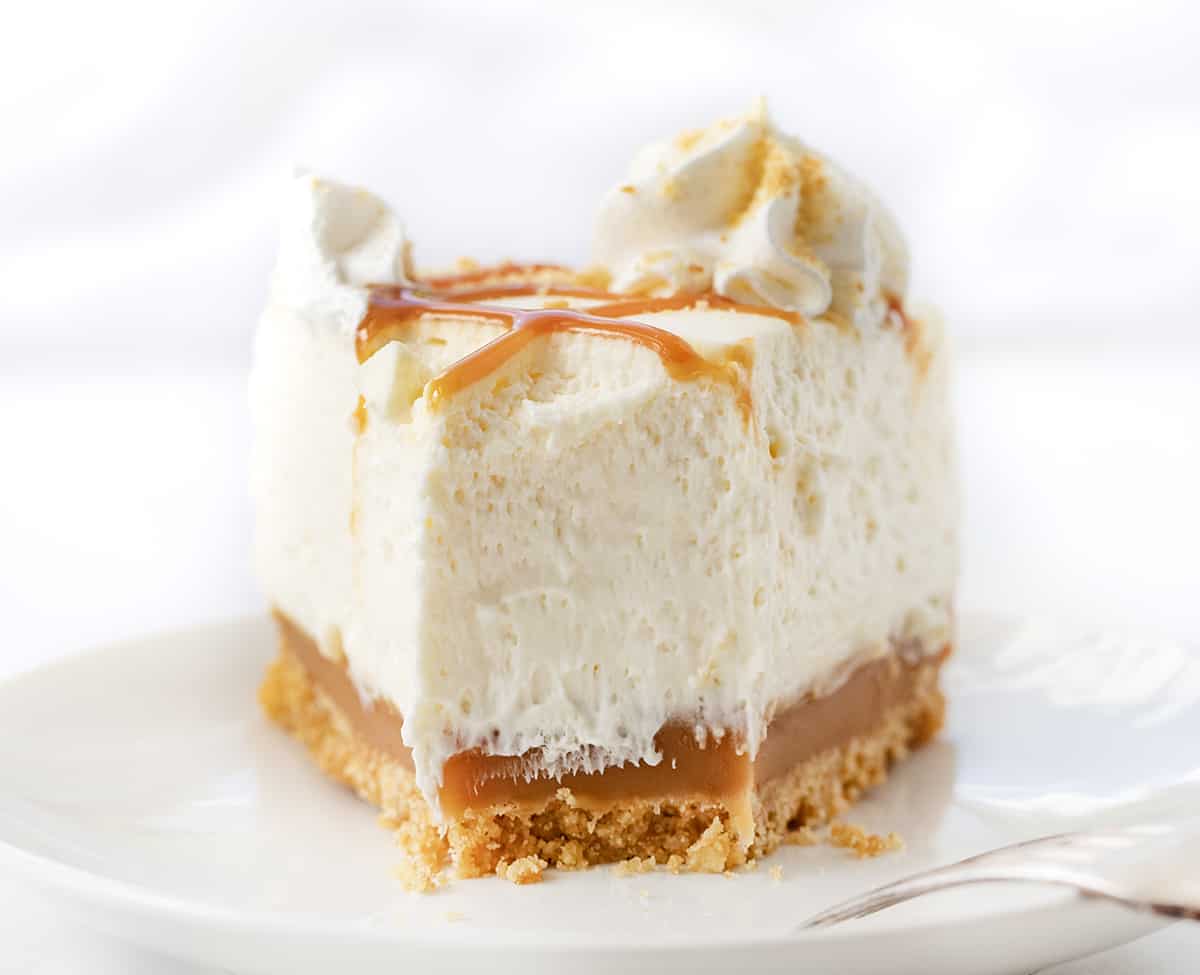 Freezing Cheesecake
To freeze a cheesecake:
Let the cheesecake cool completely.
Once cooled, remove the cheesecake from the pie pan. Place the cheesecake (uncovered) onto a baking sheet and into the freezer for about an hour.
After the hour in the freezer, wrap it tightly in plastic wrap.
Place the wrapped cheesecake into a zipped freezer bag or wrap it in aluminum foil. Be sure to label and date the cheesecake. It will last up to 3 months, but best within a month.
When ready to enjoy, let the cheesecake thaw in the refrigerator before cutting and serving.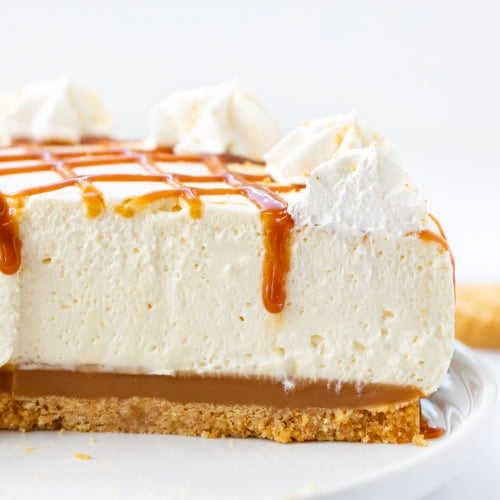 Caramel Cheesecake
Caramel Cheesecake is a no-bake dessert with a buttery shortbread crust layered with homemade caramel and a smooth, creamy cheesecake filling. Then, it's topped with more crumbled shortbread cookies, dollops of whipped cream, and caramel for a sweet, rich, and tangy treat!
Ingredients
Instructions
Spray a 9-inch springform pan with nonstick cooking spray. Line the bottom with parchment paper.
Shortbread Crust
In a small bowl, add the melted butter to the crushed shortbread cookies. Using a fork, mix well, making sure every crumb is coated in the butter as this will be the glue that holds it together. Press the crust into the bottom of the prepared springform pan. Set aside as you make the caramel filling.
Caramel
In a large saucepan over medium heat, melt the butter. Add sweetened condensed milk, heavy cream, corn syrup, brown sugar, salt, and vanilla. Stir until combined. Continue cooking until the mixture reaches 236°F on a candy thermometer, stirring constantly (about 15-18 minutes).

Pour the caramel over the shortbread crust, spreading it to an even thickness. (The mixture will be very hot). Transfer to the refrigerator to cool completely, about 1 ½ hours.
Cheesecake
To the bowl of a stand mixer with the paddle attachment, add the cream cheese, sugar, vanilla, and salt. Mix at medium speed until soft and smooth, stopping to scrape the sides of the bowl as needed.

Switch to the whisk attachment. Pour in the heavy cream, mixing at low speed to combine. Then, increase to high and whip until the mixture can hold stiff peaks (3 to 5 minutes).

Pour the filling over the cooled caramel layer.

Refrigerate until firm, about 6 hours, up to overnight.

Garnish with whipped topping, shortbread cookie crumbs, and caramel. Cut and serve.
Did you make this recipe?
Thank you for making my recipe! You took pictures, right? Well go ahead and post them on Instagram! Be sure to mention me @iambaker and use the hashtag #YouAreBaker.
What the Test Kitchen had to say about this recipe: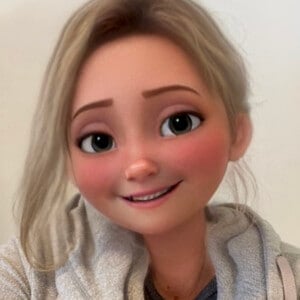 Autumn
Traditional no-bake cheesecake is really elevated in this recipe with the addition of caramel and shortbread. The combination flows so well together. This is definitely a dessert to impress!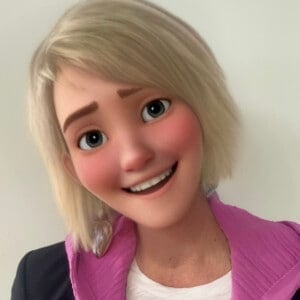 Elizabeth
This is my new favorite dessert! Seriously! The silky smooth cheesecake layer on top of the caramel with the shortbread cookie crust (my favorite) is simply perfection. I went back for quite a few bites of this one… PRO TIP: Start at the crust end…YUM!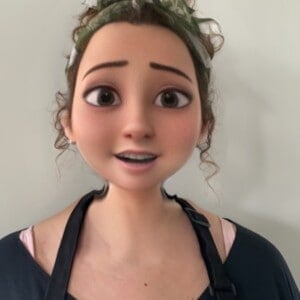 Rachael
Caramel, shortbread crust, and light, fluffy no-bake cheesecake are like a fun twist on a cheesecake. The bottom is like the inside of a Twix candy bar with shortbread and caramel, then topped with airy cheesecake. I think this would be a crowd-pleaser!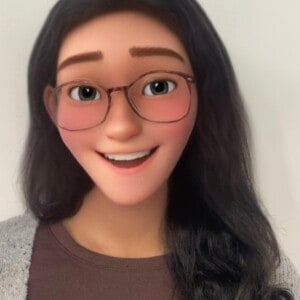 Bella
This is a great no-bake cheesecake recipe. The cheesecake is light and fluffy. The caramel elevates the overall taste of the cheesecake! A great flavor combination!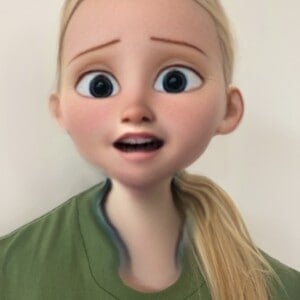 Annabelle
Great combo! This is heavenly, and not too hard to create at home!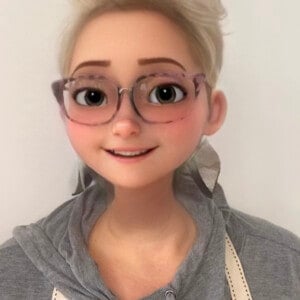 Selena
I love the flavor combo In this. I really enjoyed the shortbread crust instead of the traditional graham crackers. It paired very well with the homemade caramel and no-bake cheesecake.