Summer Drink Recipes are a variety of cold, refreshing drinks that will quench your thirst on a hot, summer day. From classic drinks for all ages like homemade lemonade to adult beverages like a Drunken Mermaid, there is a recipe or two for everyone.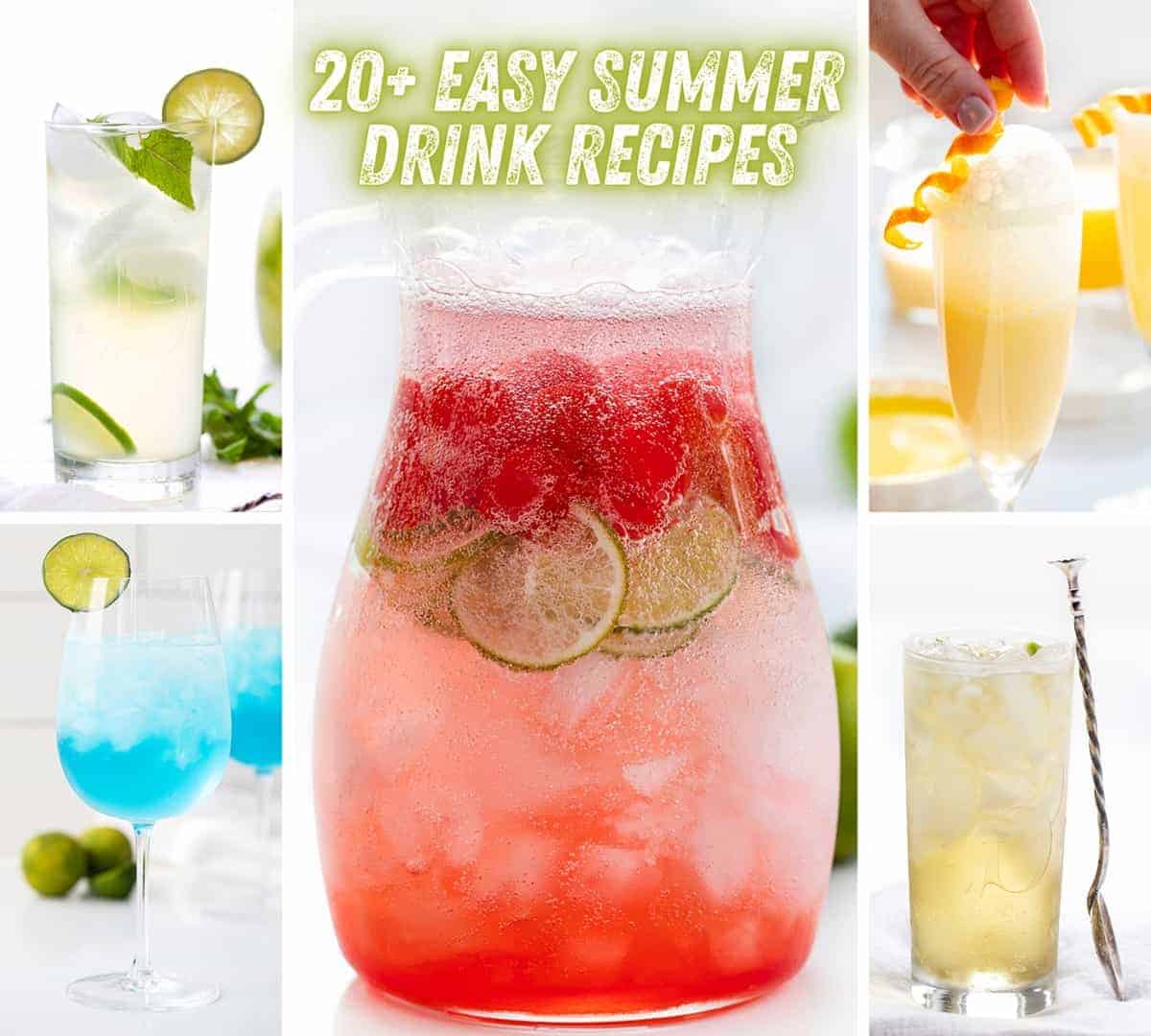 Summer Drink Recipes
With temperatures already hitting the 90's this weekend, it definitely feels like summer. Although the official start of the summer season isn't until June 20th, it feels like the dog days of summer already! With the heatwave and lots of sunshine, a cold drink is definitely in order.
Whether sitting on your patio, on a deck, by a pool or just lounging around the house, I have you covered with this variety of homemade summer drink recipes. There are both nonalcoholic and alcoholic recipes on this list. Click on the drink name to jump to the full recipe.
Lemon Drinks
The first group of drinks is all about lemons. When life gives you lemons (or hot days in the summer), make lemonade, or some sort of lemony drink. The light, bright flavor is what people crave during the hottest months of the year.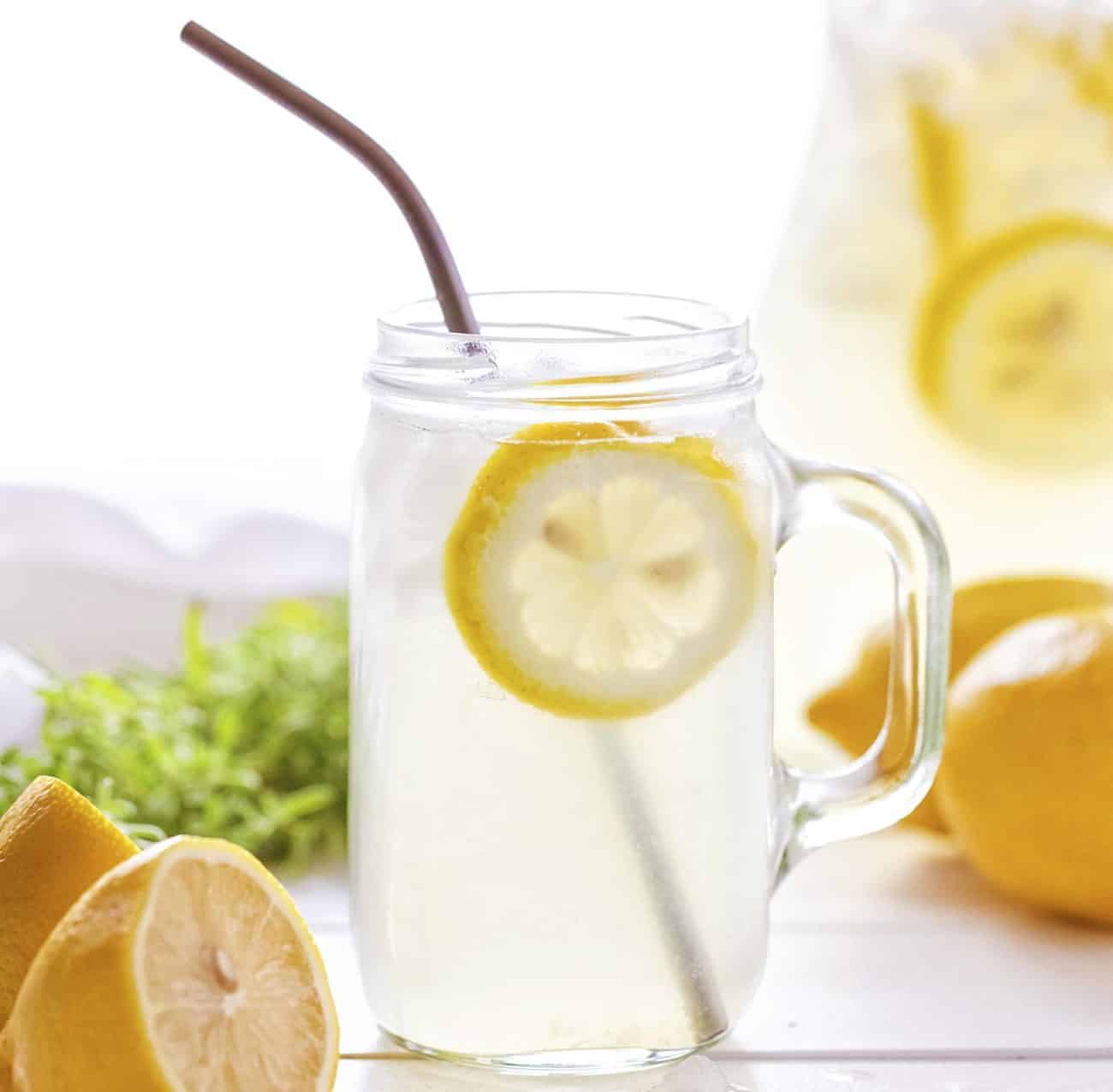 There is something so amazing about a freshly squeezed glass of ice-cold lemonade. Lemonade stands are all the rage during the hot summer months in Minnesota. My all-time favorite place to pick up a glass of the real-deal, freshly-squeezed, lemonade is at the Minnesota State Fair. I have wanted to duplicate this recipe for a very long time and I am so glad I finally did. This recipe is so simple to make, and it is a great way to get the kids involved!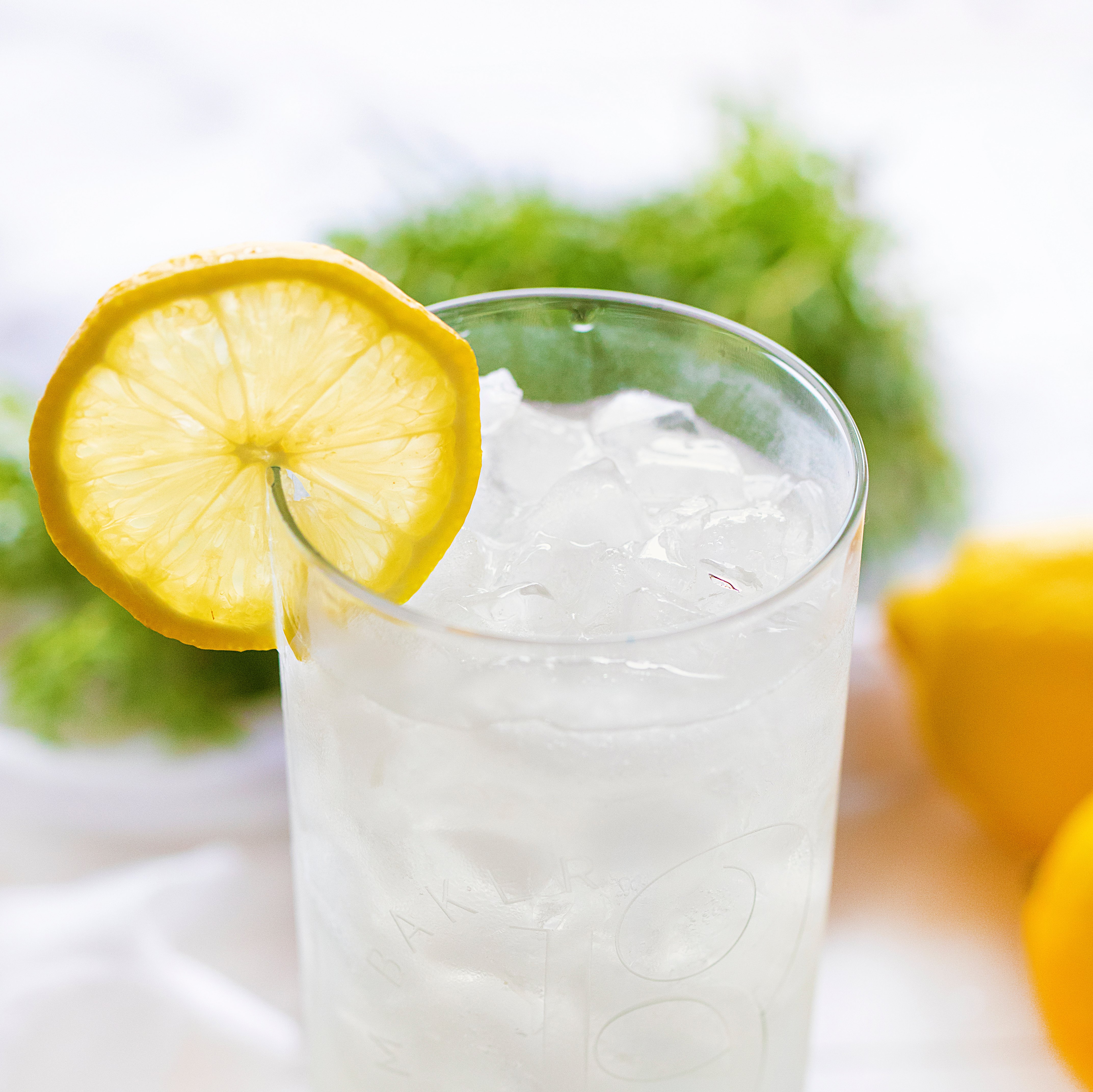 Vodka Lemonade… my first-ever alcohol drink on iambaker which also happens to be my summertime drink of choice! There is something so amazing about a freshly squeezed glass of ice-cold lemonade, especially when it is cocktail hour and you can add a little vodka! Homemade Lemonade with the perfect amount of vodka is the best way to beat the heat this summer! This was inspired by my love of the classic vodka lemonade!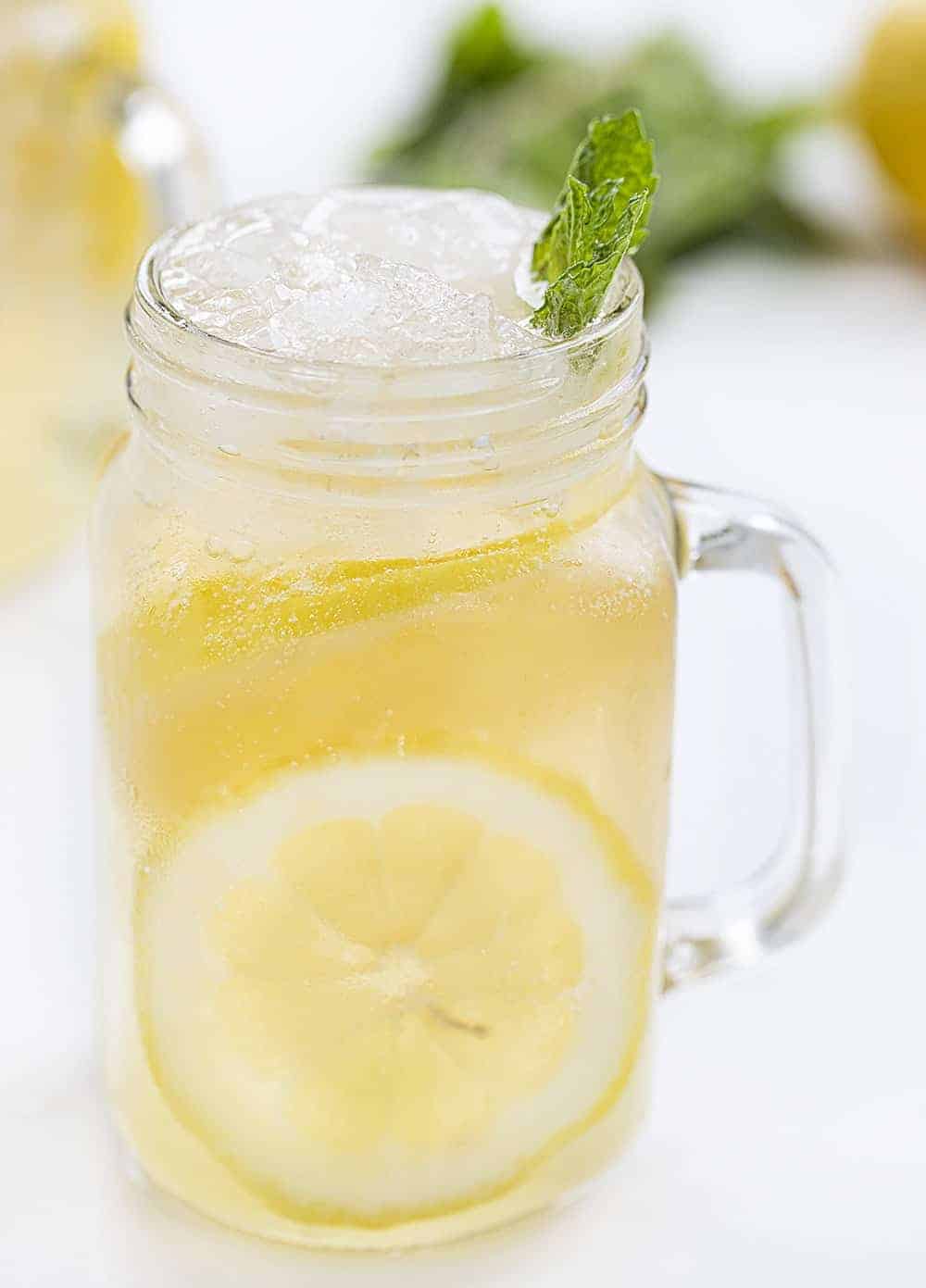 Minnesota is known for its bootleg cocktail, which was made during prohibition to hide the taste of alcohol (which can be dangerous…)! The cocktail consists of vodka, citrus, and fresh mint. I stuck with the basic ingredients of a bootleg cocktail in this Minnesota Spiked Lemonade but added some ginger ale to the mix. If you are not a vodka fan, you could always add a little whiskey or bourbon to the drink.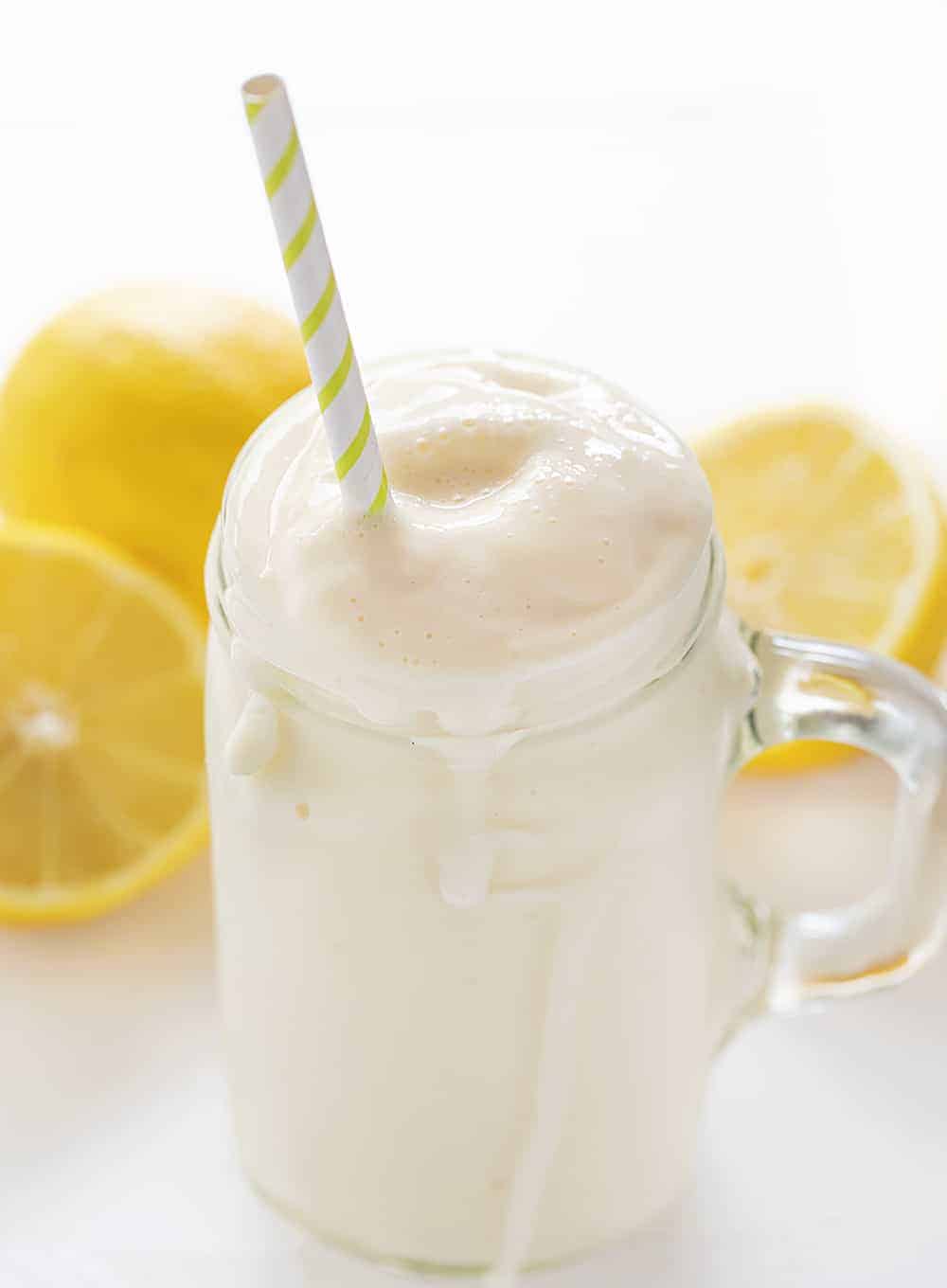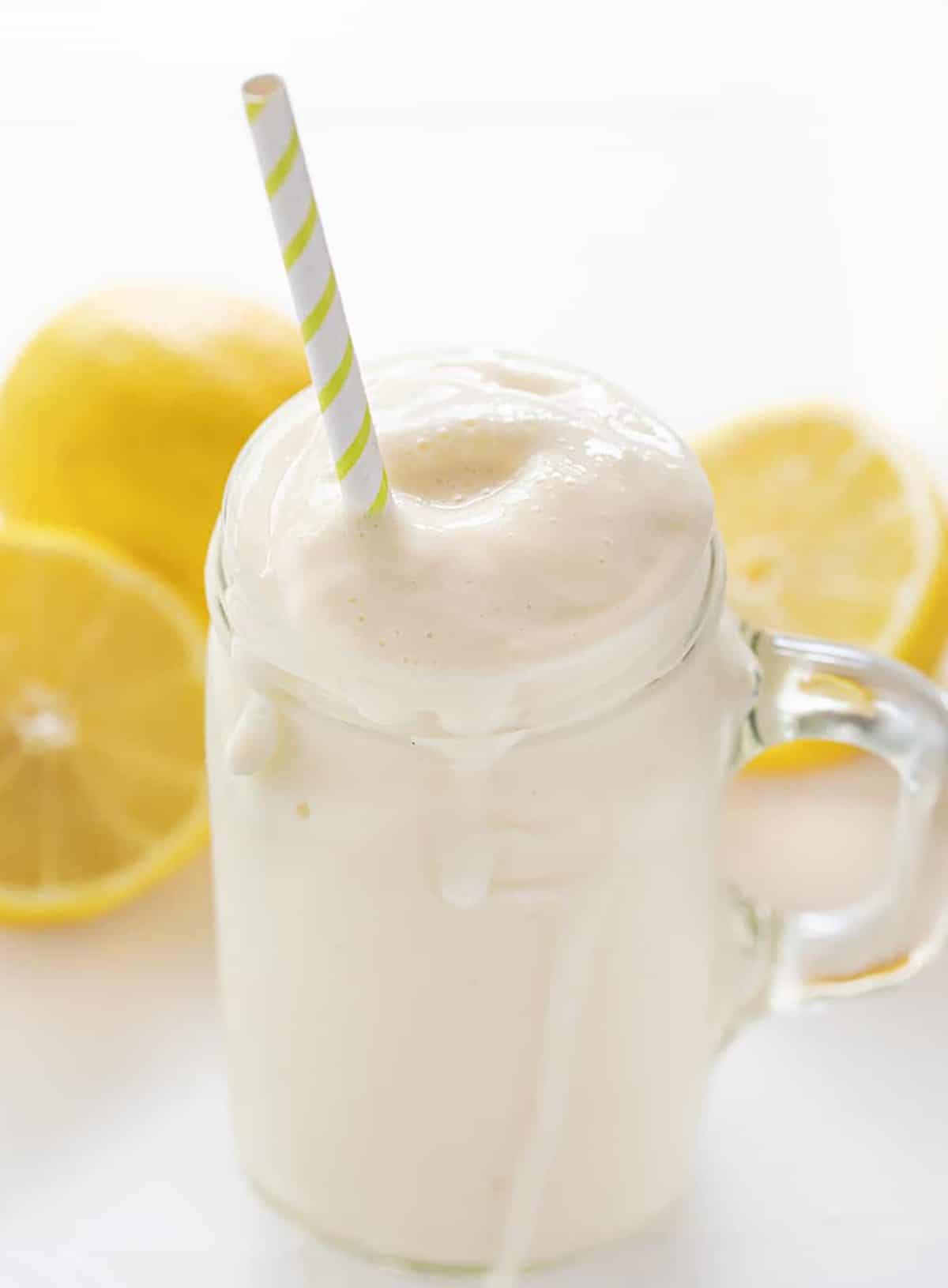 Frosted Lemonade…an easy and delicious way to beat the heat! This simple drink wows and delights and is sure to be a new favorite way to get you through the summer! I wanted to replicate the version I had at Chick-fil-A as closely as possible so settled on this version, which just happens to be the easiest.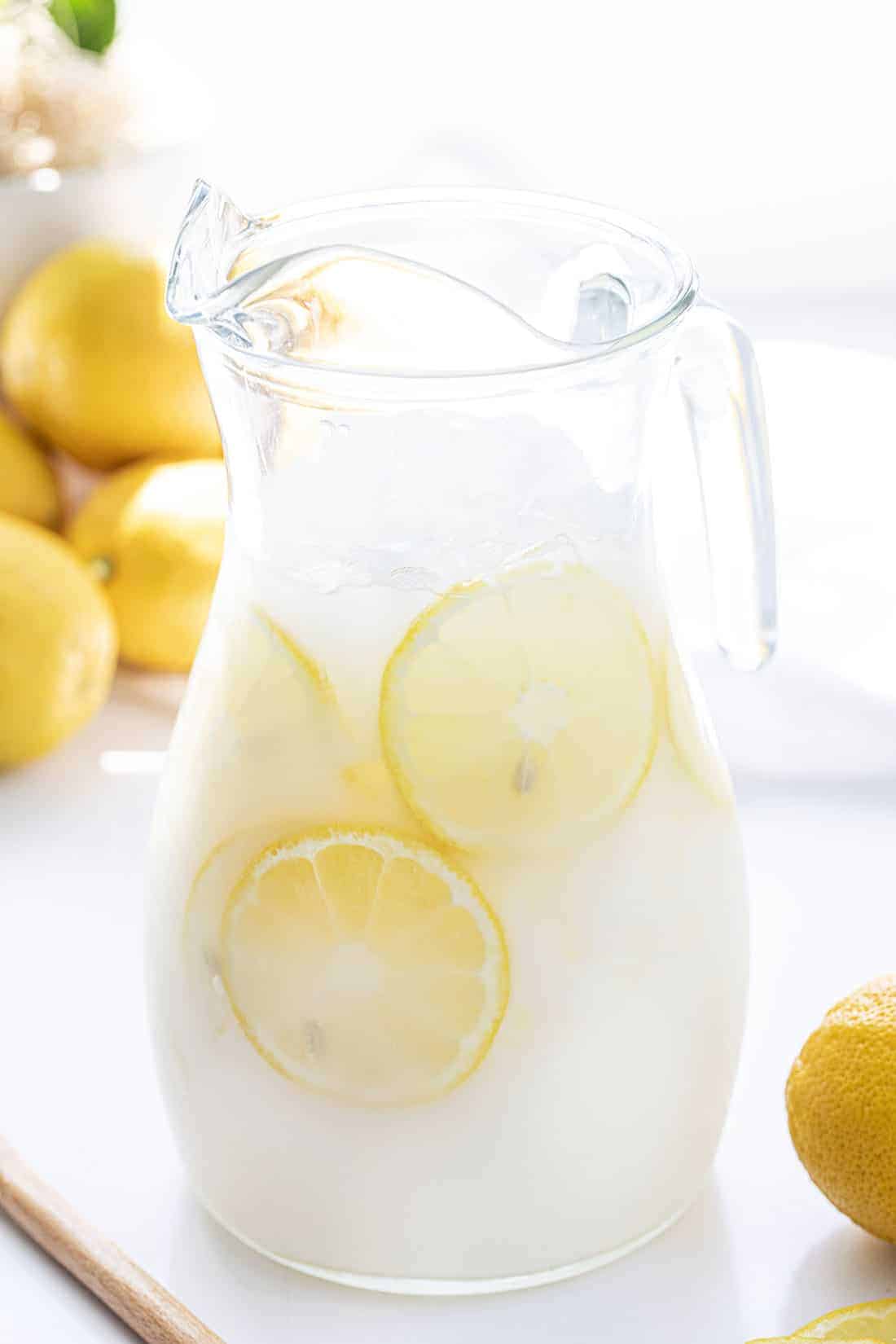 For a sweet and creamy drink that screams summer, you must try this Creamy Lemonade. You may have seen a similar drink made with limes called Brazilian Lemonade (yes, still called lemonade even though made with limes). The one thing that stands out in both drinks is using sweetened condensed milk. But, there are enough lemons to give the drink just a hint of tartness so it is not too sweet.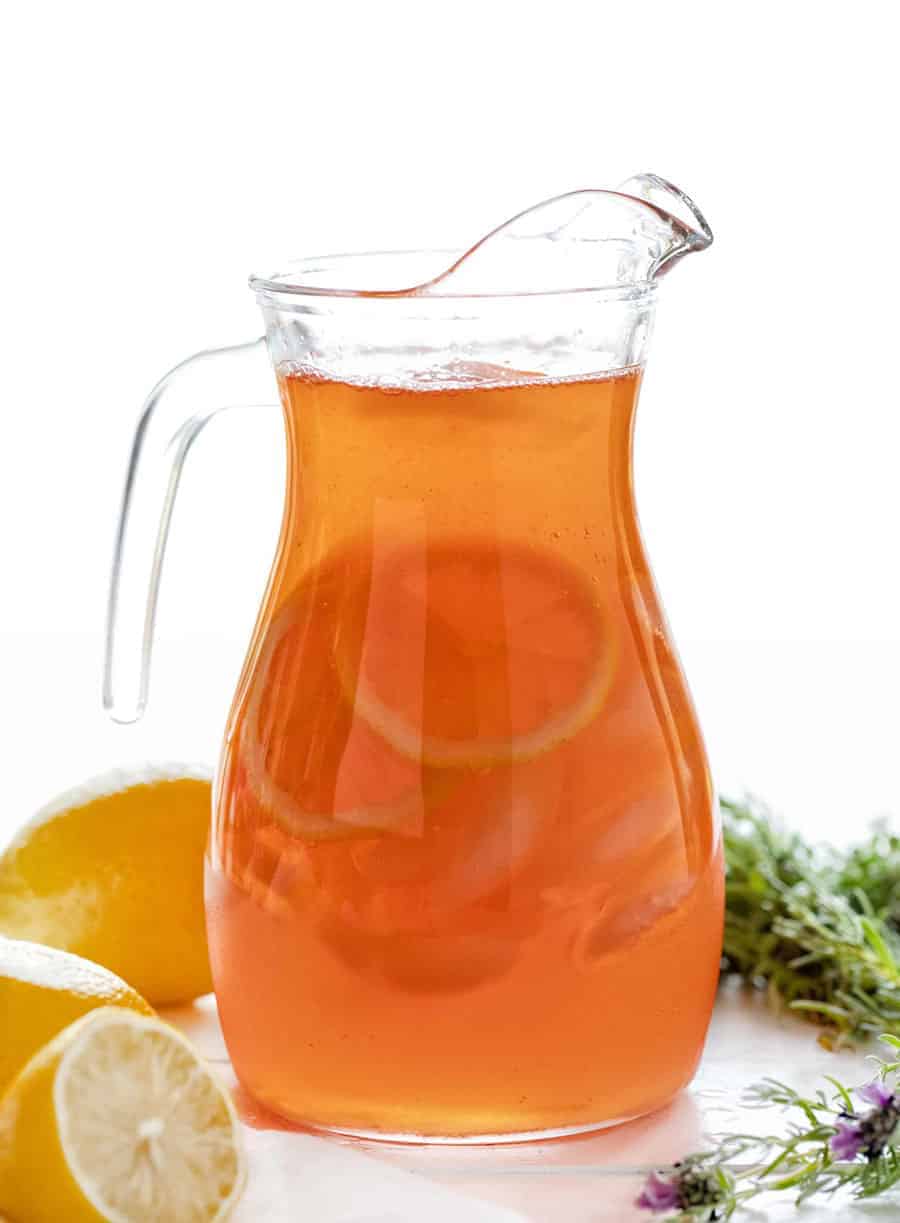 Imagine a refreshing glass of ice-cold lemonade infused with the sweet flavor of strawberries and the natural aroma of lavender. Like traditional lemonade, Strawberry Lavender Lemonade is relatively simple to make. The primary difference is that for this recipe we heat up the liquid in order to draw out the natural aroma and flavor of the lavender and strawberry.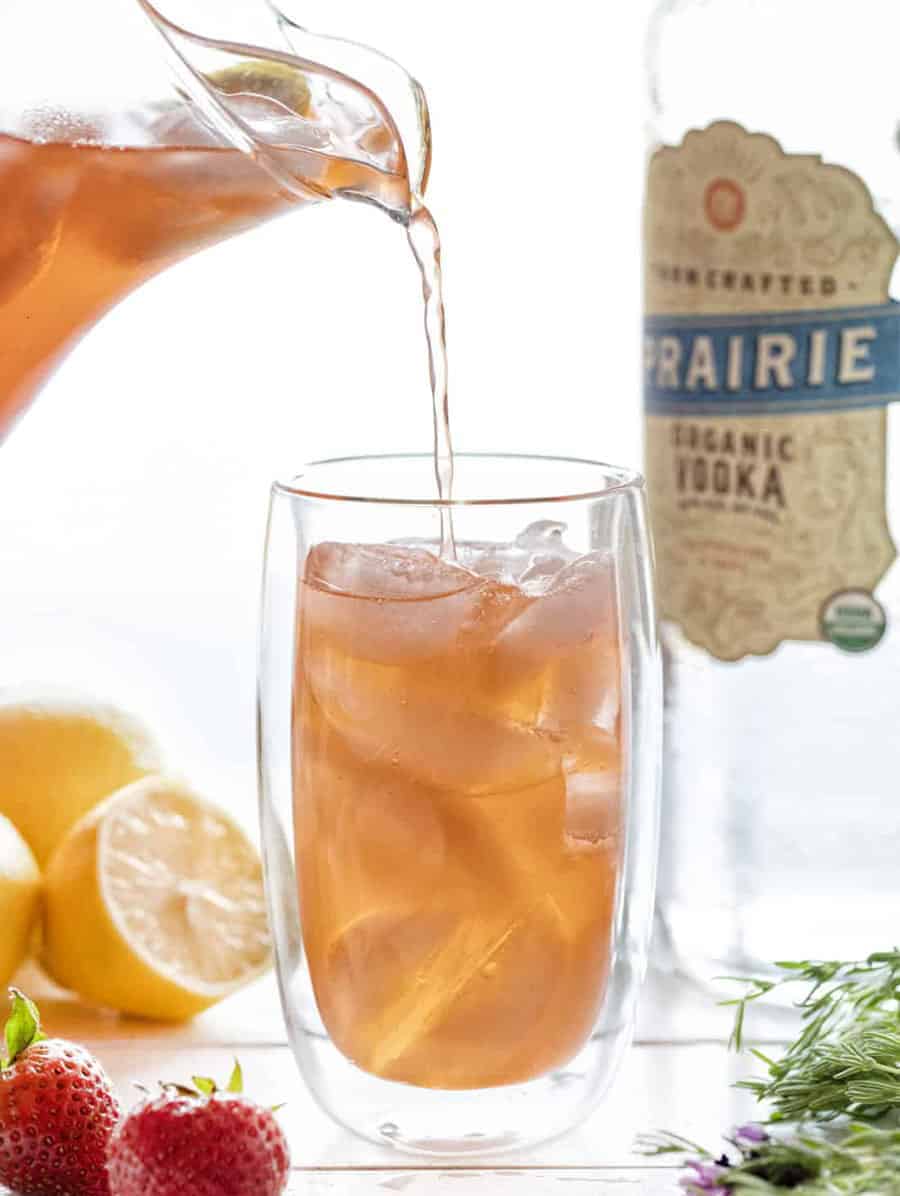 This recipe is the adult version of the previous strawberry lavender lemonade. So, if you are craving the same flavors with a little extra something added to it (in this case, vodka), give this drink a try!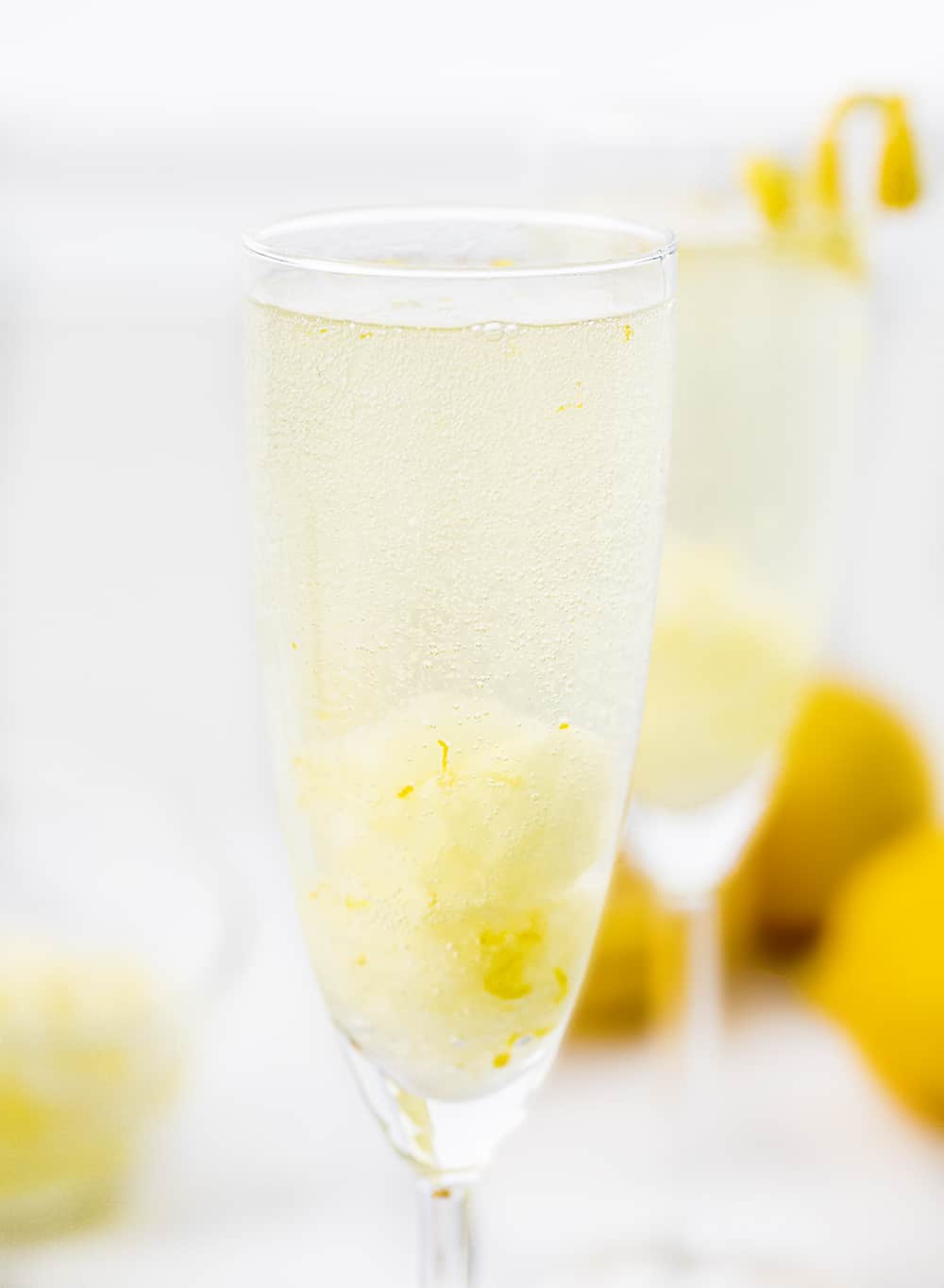 Lemon Vodka Prosecco is a tart, refreshing, and sparkling adult beverage that is made with vodka, Prosecco, and lemon sorbet. You will not even realize that you are drinking alcohol (which could be dangerous) when you are sipping on this refreshing drink. It's an ice-cold drink to enjoy on a hot summer day.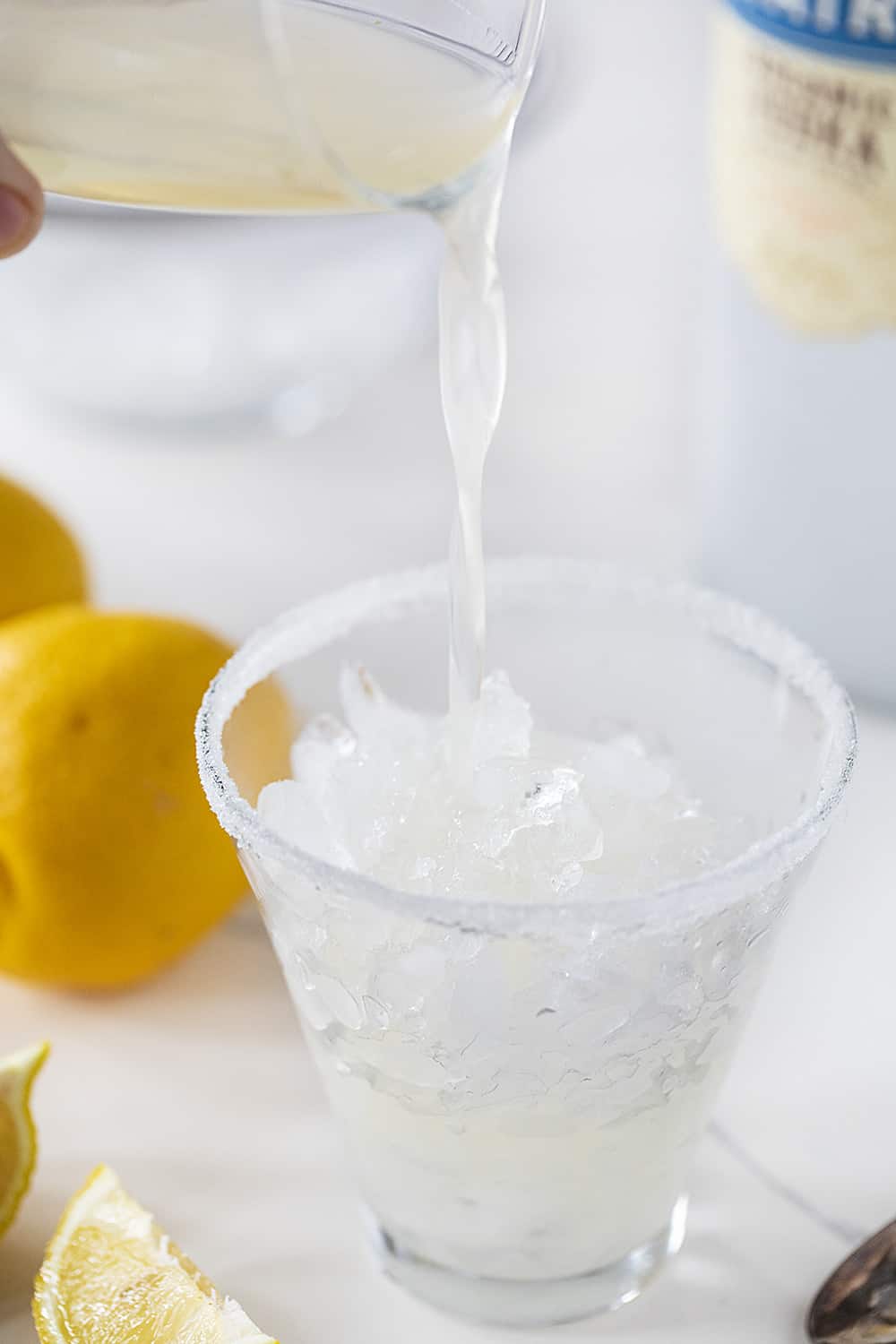 Do you remember those lemon drop pieces of candy that made your lips pucker as a kid? I happen to love the burst of lemon flavor they have! Well, now you can get that same burst of flavor in an adult beverage. This Lemon Drop Martini is full of lemon flavor with a touch of sweetness to balance it all out.
More Summer Drink Recipes
Yes, there are more drinks for summer than just lemony drinks. So, if you are not a fan of lemons, the next few drinks are for you. There is sure to be at least one on the list you will want to make. In the following list, the majority are adult beverages that contain alcohol, but the first two are nonalcoholic options.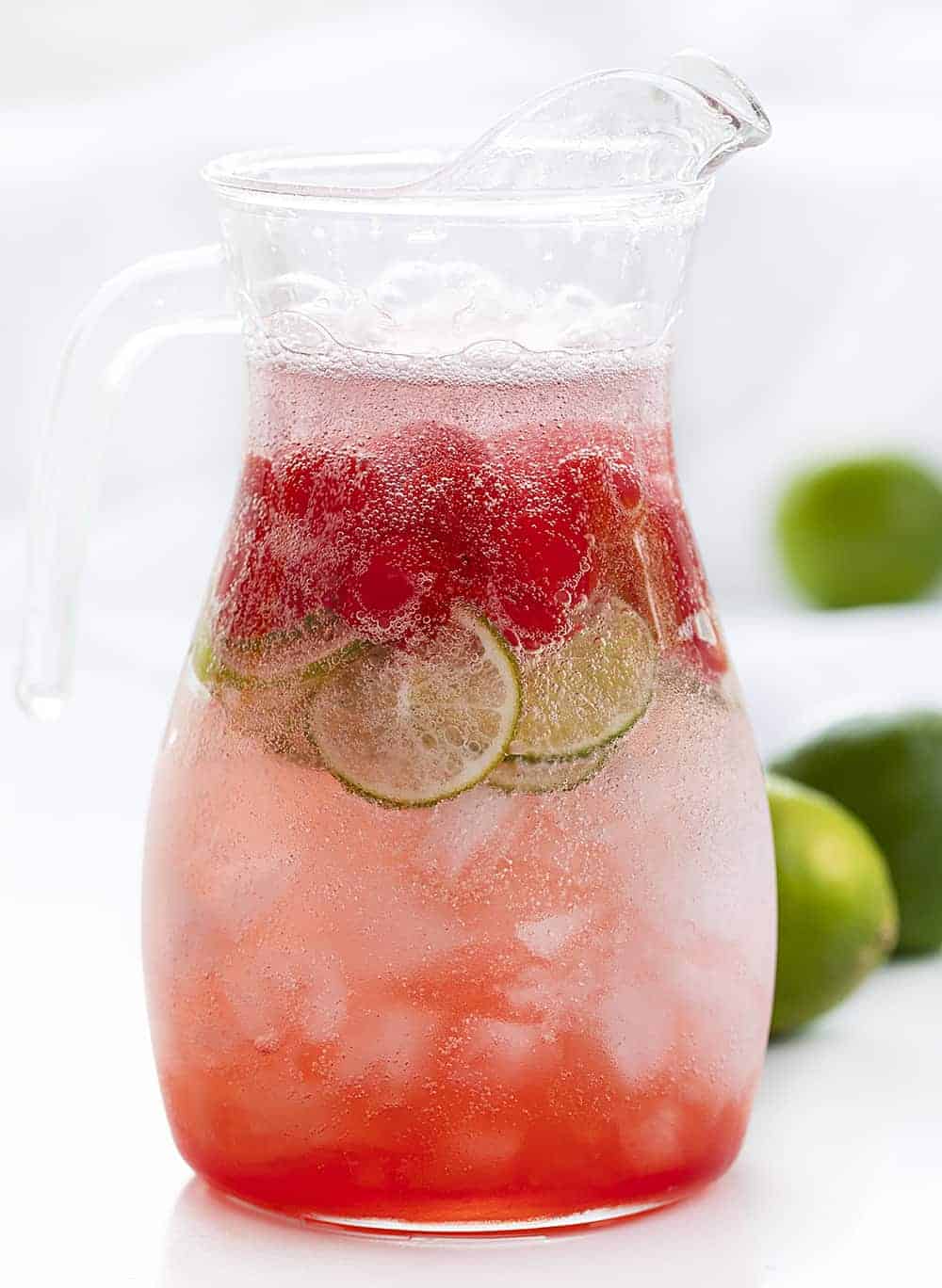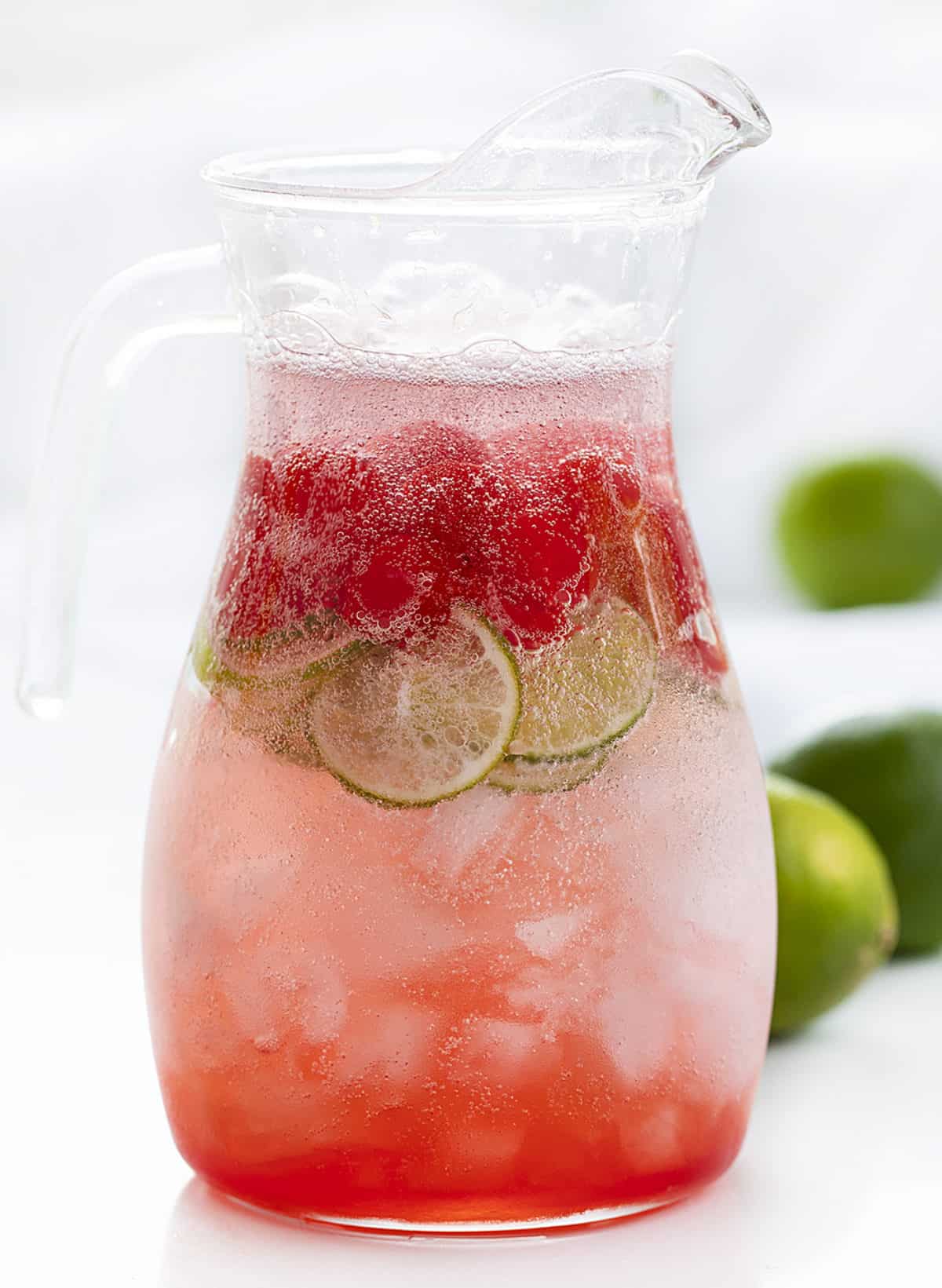 Cherry Limeade is a cold, refreshing non-alcoholic drink that is made with fresh lime juice, Sprite, and maraschino cherries, all poured over crushed ice. If you have ever been to Sonic, a drive-in, fast food restaurant chain, then you have probably seen their selection of Limeade drinks. This Cherry Limeade recipe was inspired by this popular drink but made even sweeter with some added sugar. It's kid-friendly, but you could always add a splash of vodka in a glass for an adult version of the drink.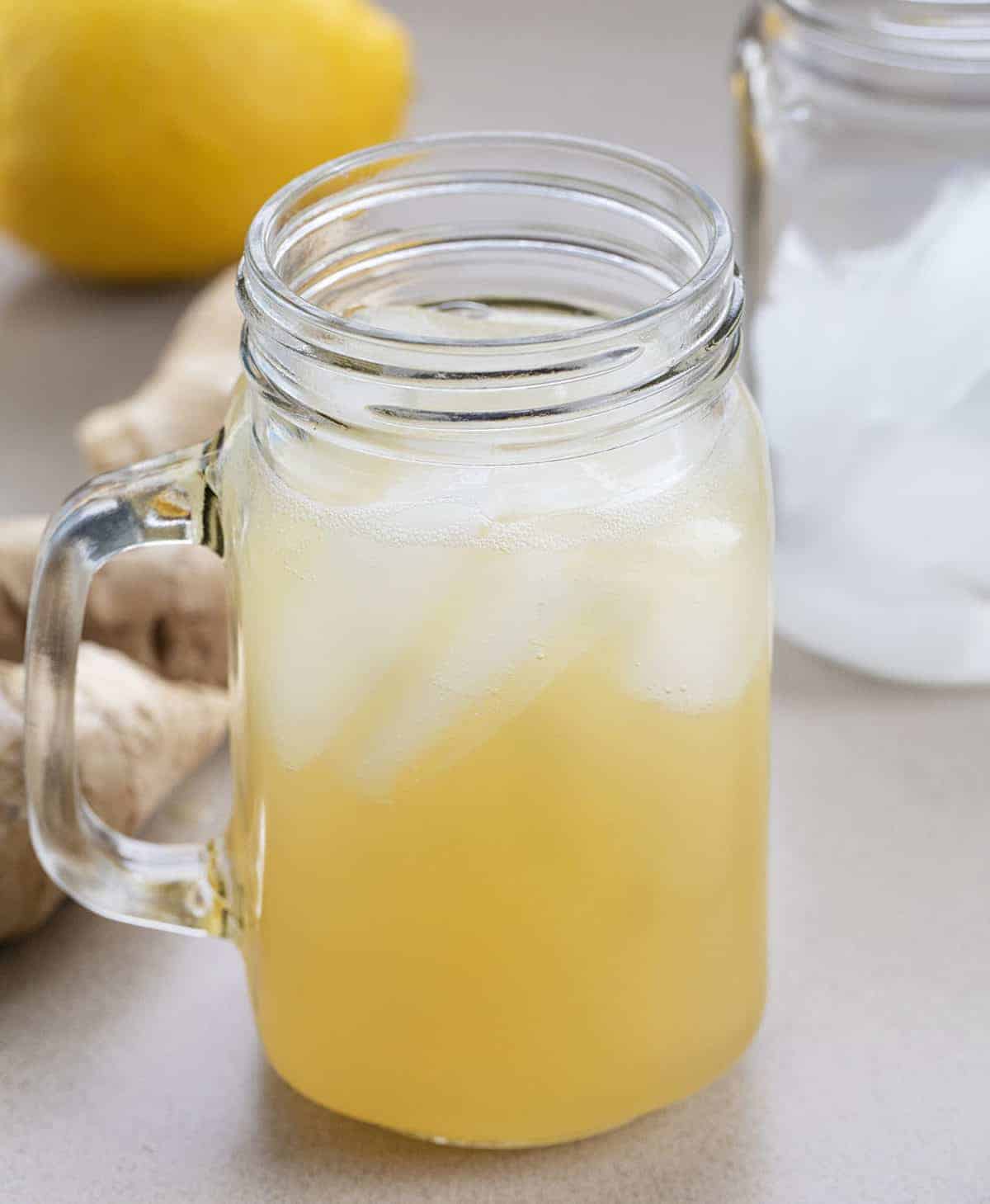 Homemade Ginger Ale is a refreshing and healthy drink that is made with fresh ginger root, lemon, and honey, all blended with sparkling water for a flavor that you can't get out of a can. This is a drink for all ages.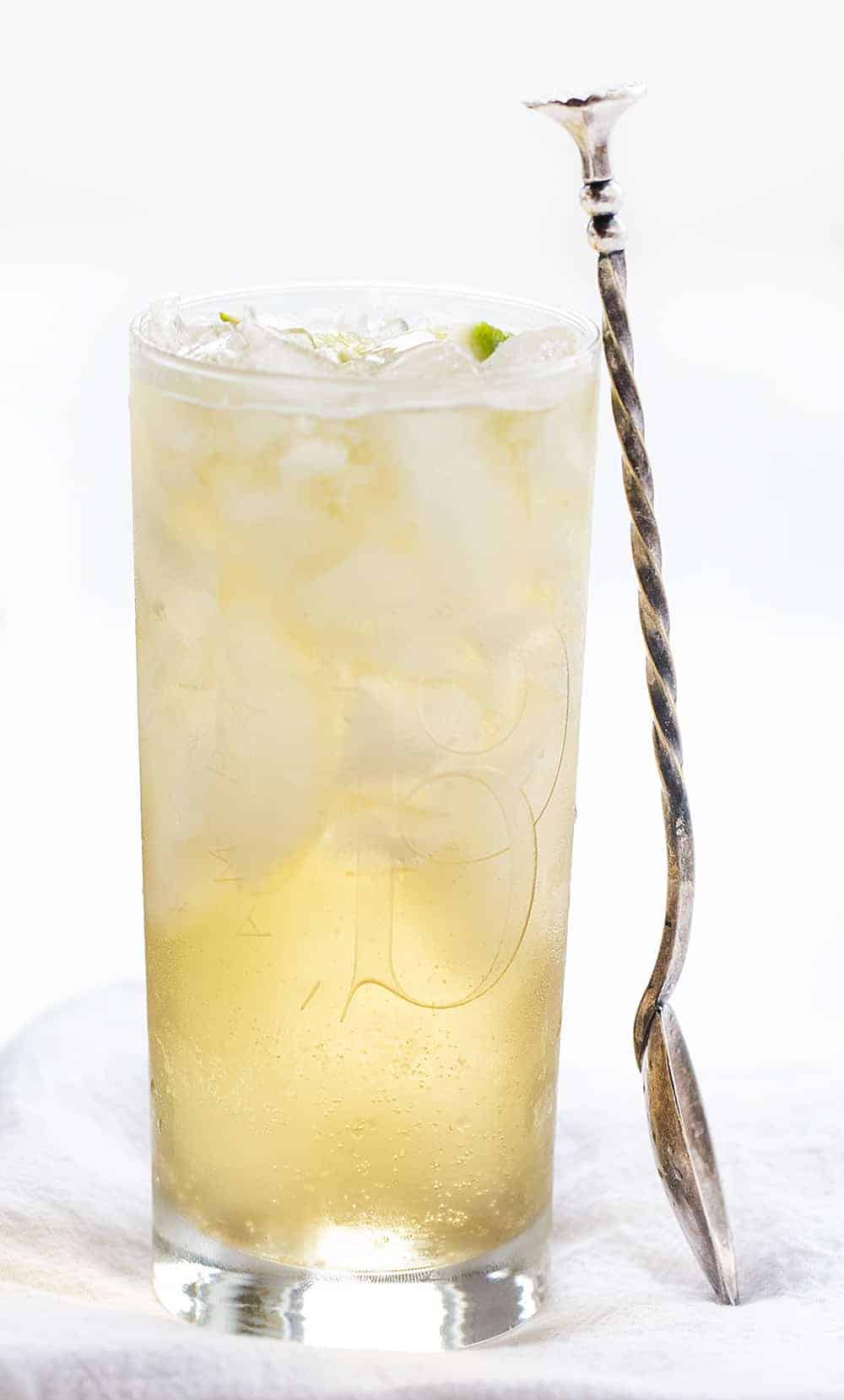 Smooth Jameson whiskey is combined with homemade ginger ale and lime juice for this traditional Jameson and Ginger cocktail. You can find bottles of Jameson in most liquor stores, and the Jameson and Ginger cocktail continues to be a signature Jameson whiskey drink.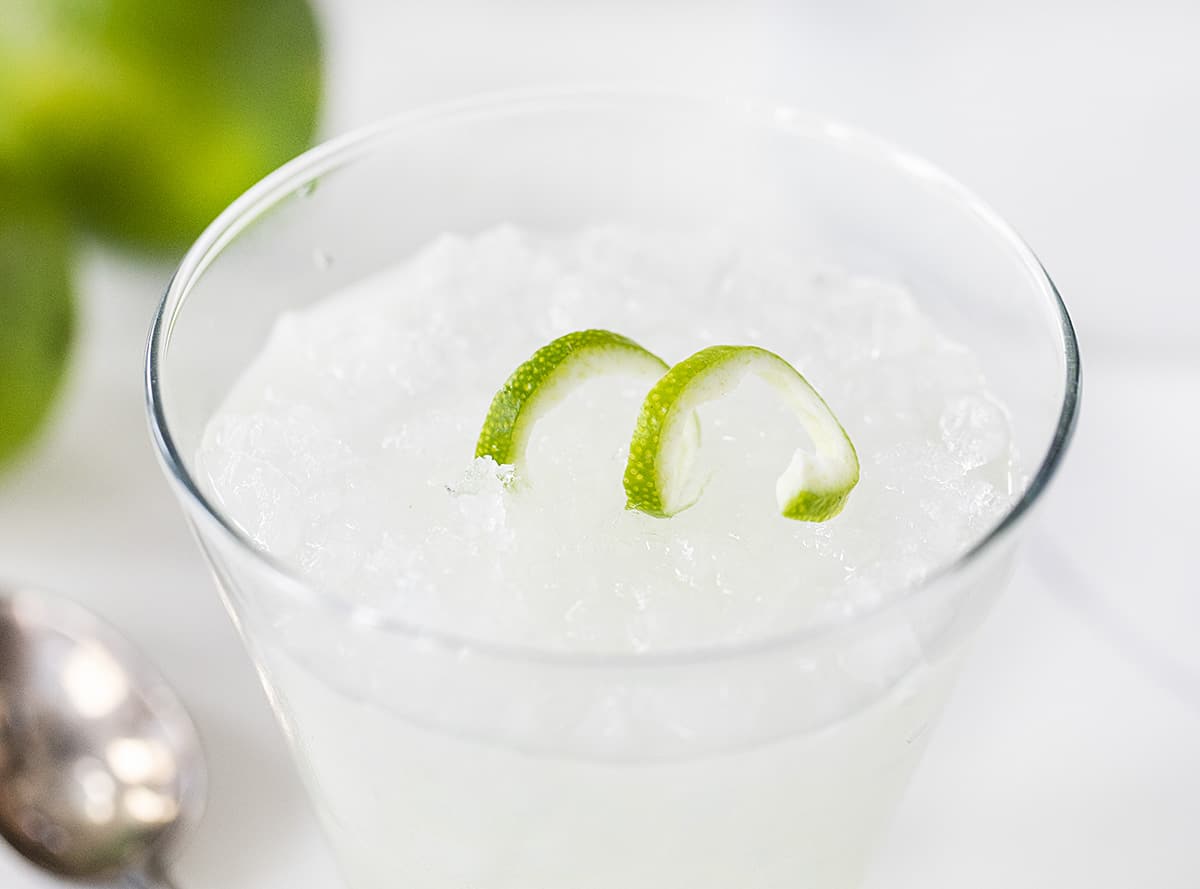 Gimlets are drinks that were originally made with gin, lime juice, and a splash of soda. It eventually evolved into two parts gin, one part lime juice, and one other non-alcoholic ingredient. The third ingredient you choose for your gimlet is up to the taster, really. And, as in this recipe, I went with vodka as my alcohol of choice, which is also pretty popular for gimlets as well.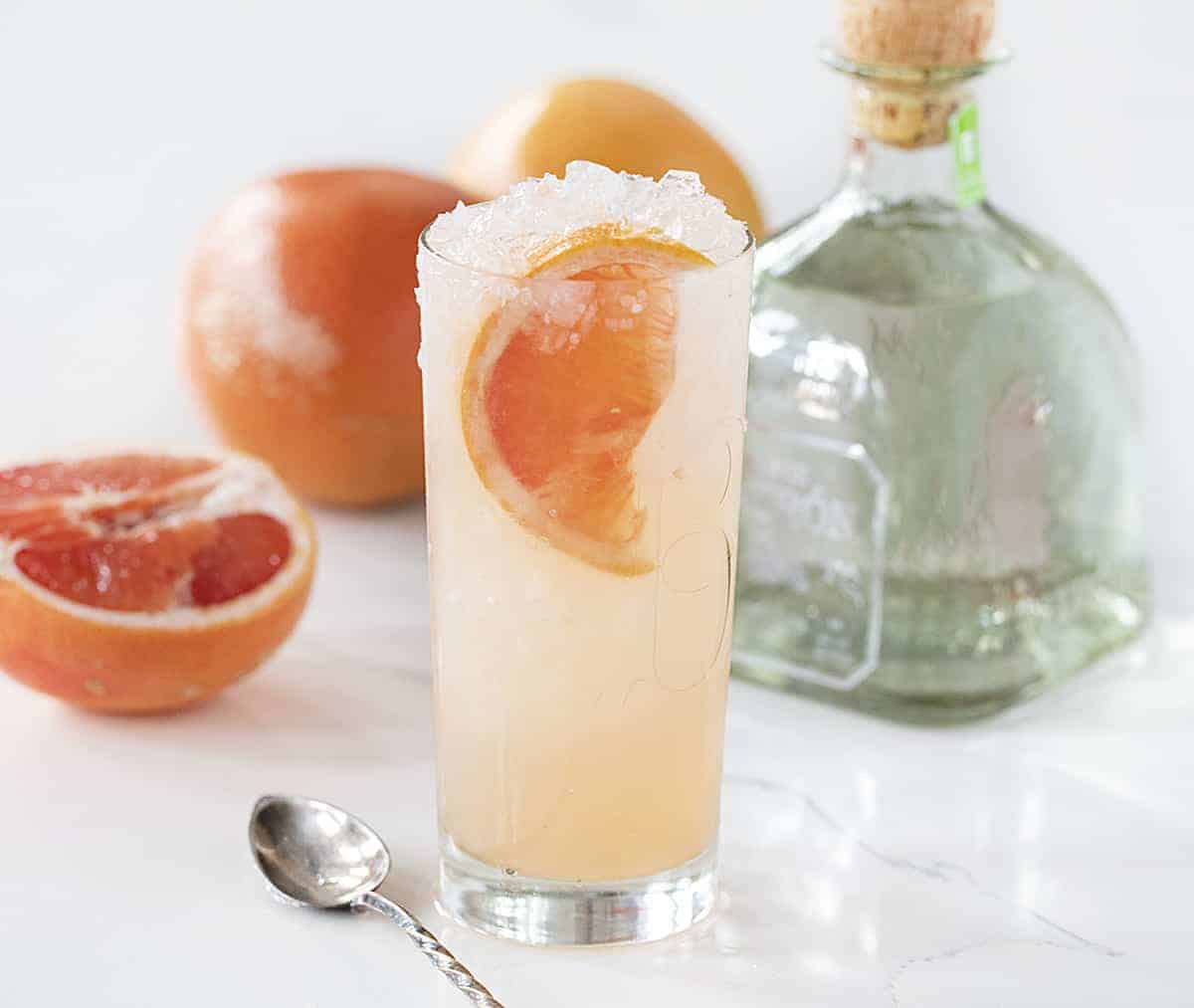 A Paloma is a light, refreshing grapefruit-flavored cocktail that gets its kick from a shot of tequila. Using freshly squeezed grapefruit juice and lime juice makes it a little extra special. This is such a popular drink that you can find it sold in cans! But, I encourage you to make your own. I stuck with the more traditional Paloma recipe here.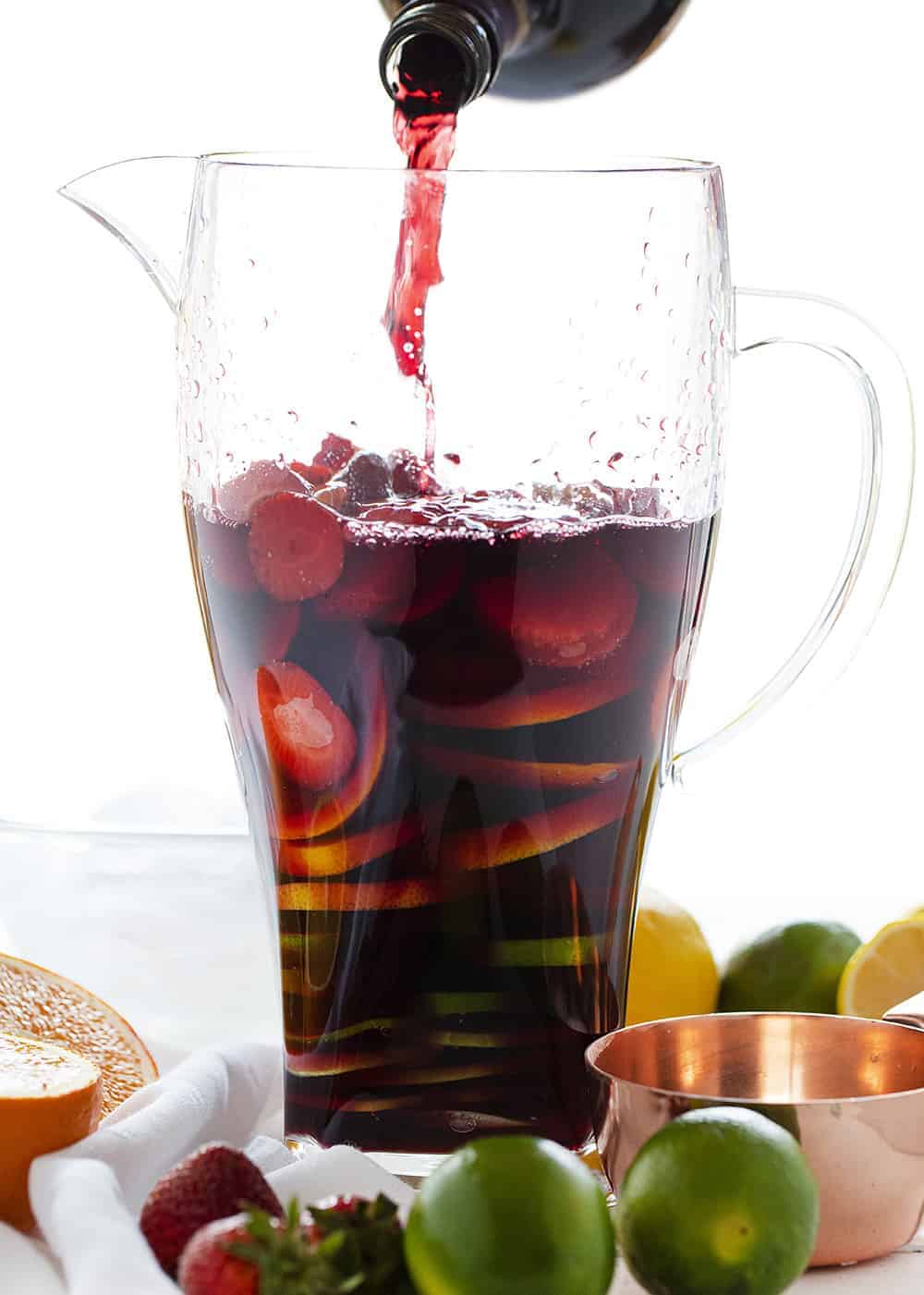 Summer Sangria is a refreshing alcoholic beverage that will make it feel like summer all year round! This is an adult punch that can definitely pack a punch if you're not careful! It is a great drink for grilling with friends, a lazy afternoon, or for your end-of-the-summer Labor Day celebrations!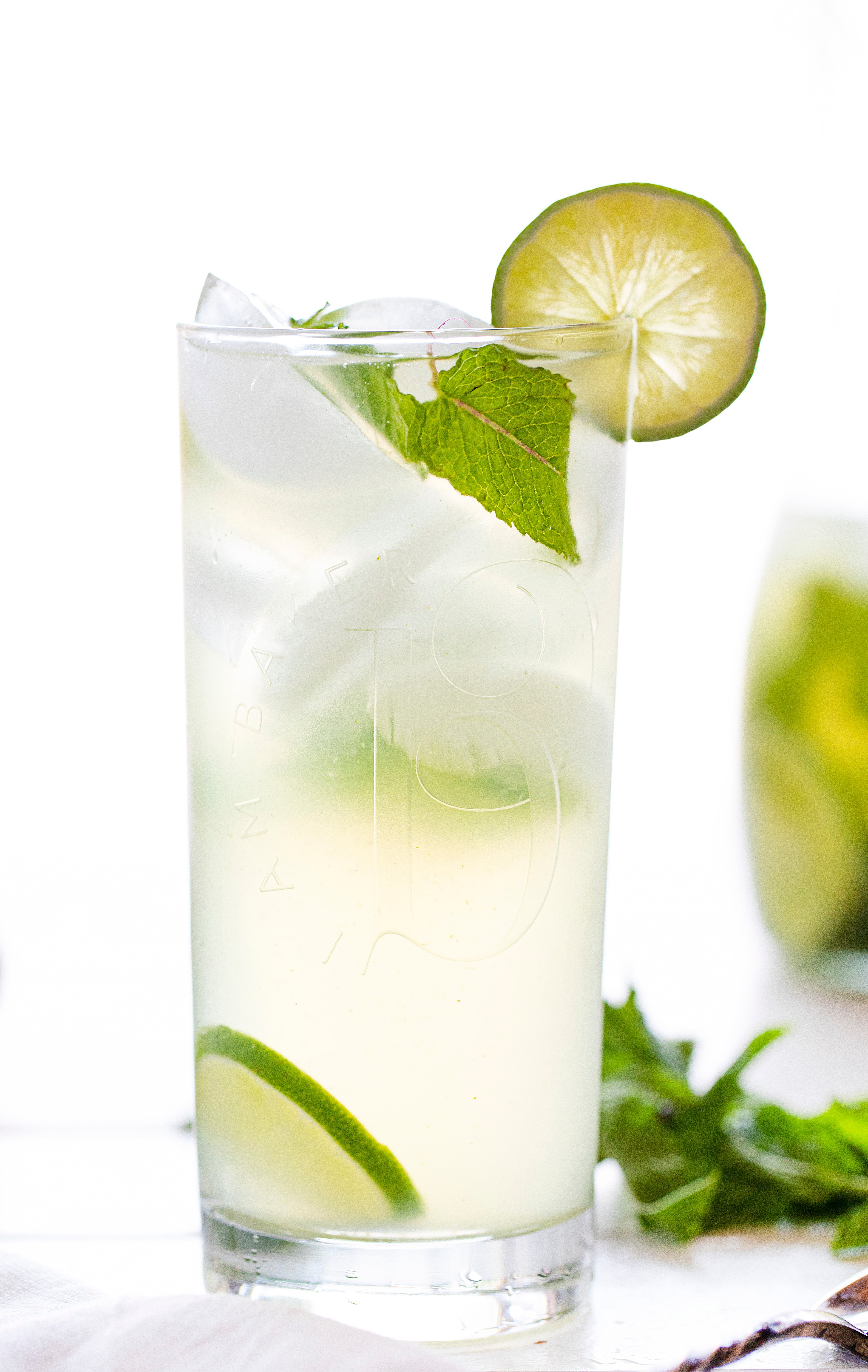 Keep the summer vibe going with this Mojito Sangria. This crisp drink is the perfect party drink, but it is also a refreshing drink to have on hand for a relaxing evening on the deck or patio. I picture myself sipping this lovely Mojito Sangria as the sun goes down, reflecting on a beautiful day. Since mint is known to be such a calming herb, it is no wonder a Mojito Sangria is a wonderful way to wind down or relax.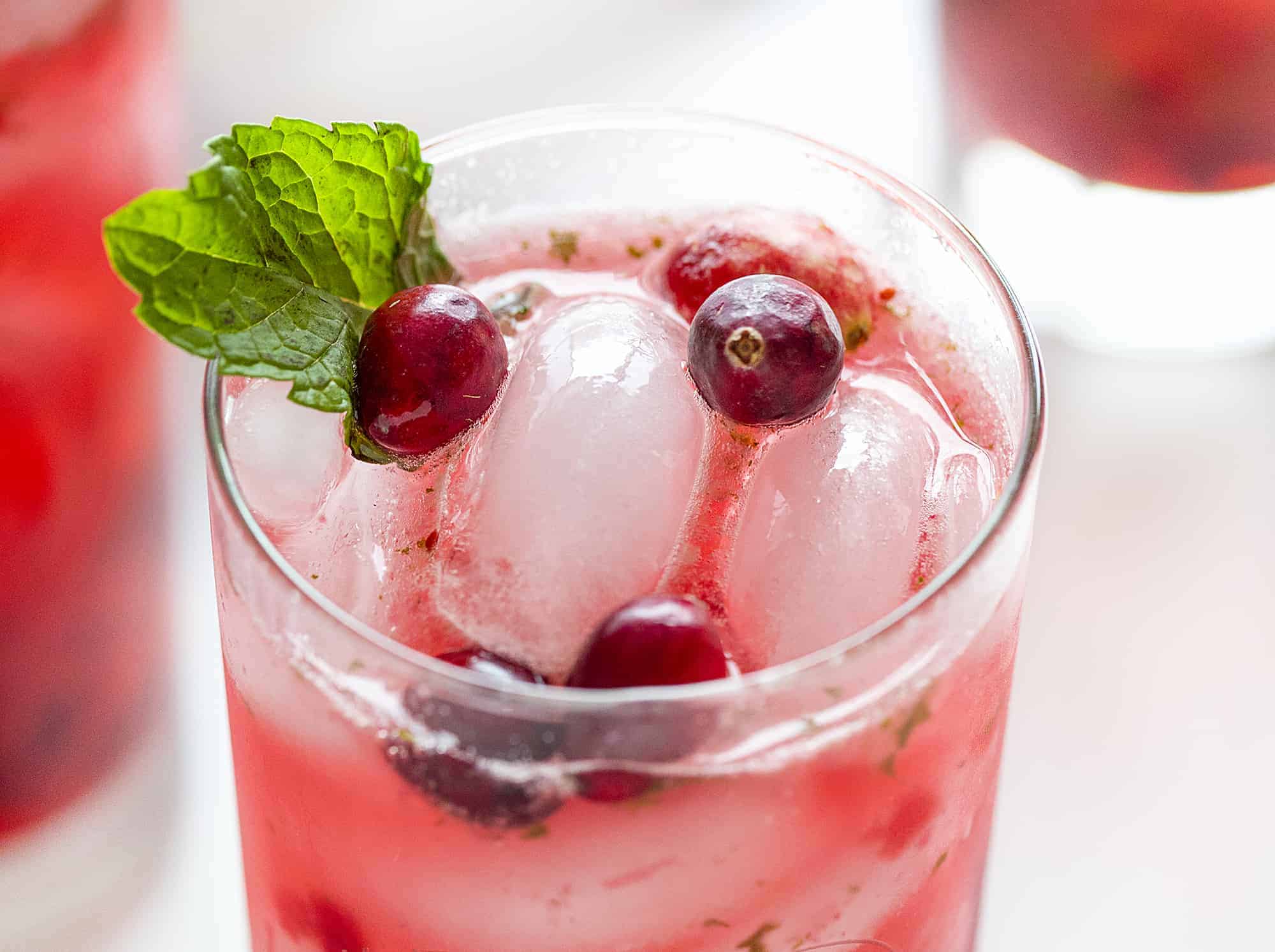 There is nothing like a refreshing drink to offer guests at your next party or to enjoy after a long day. The colors are so vibrant and pretty, it almost makes you not want to drink it! But, who am I kidding…sip away! Since mint is known to be such a calming herb, it is no wonder a Cranberry Lime Mojito is a wonderful way to wind down or relax.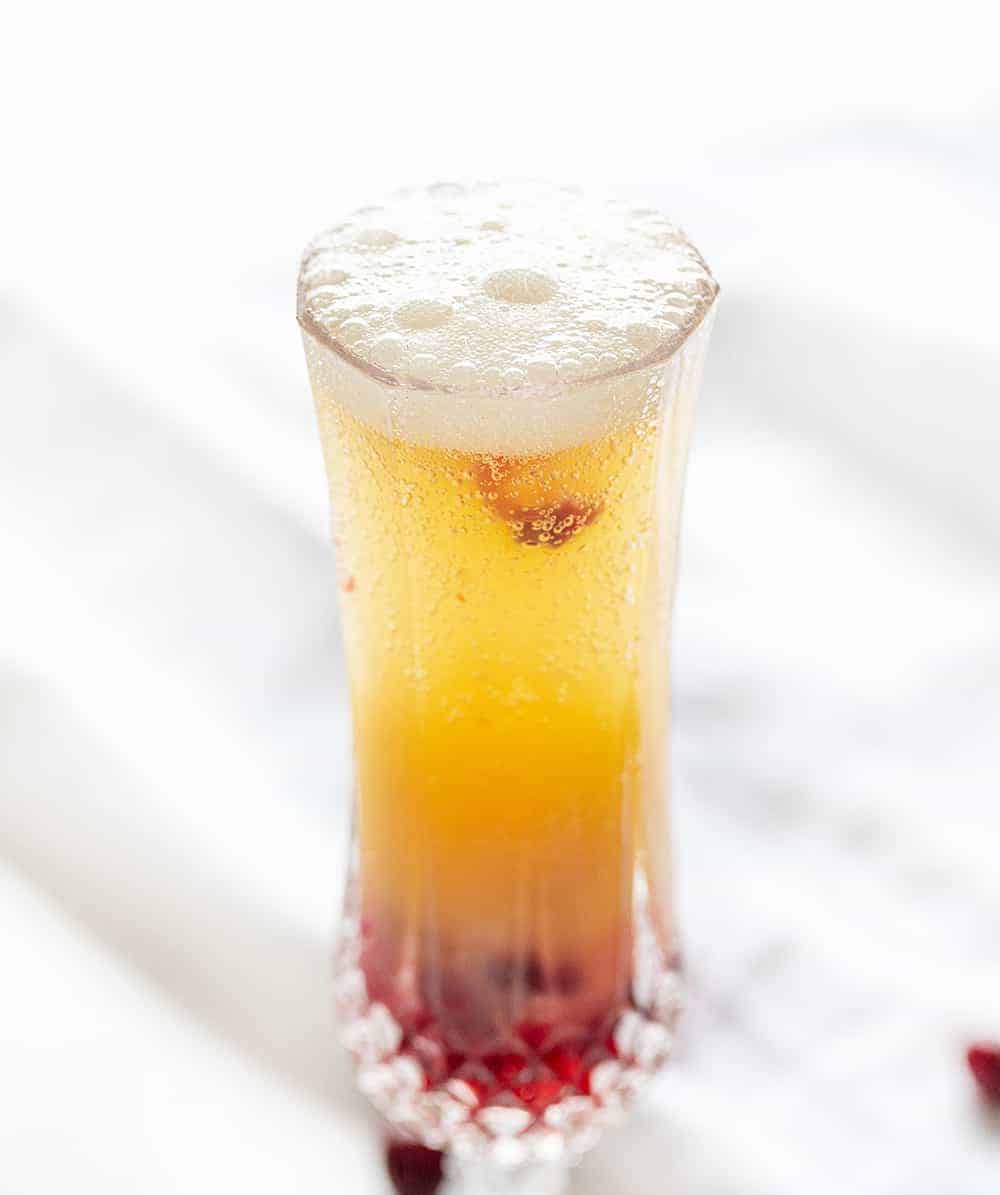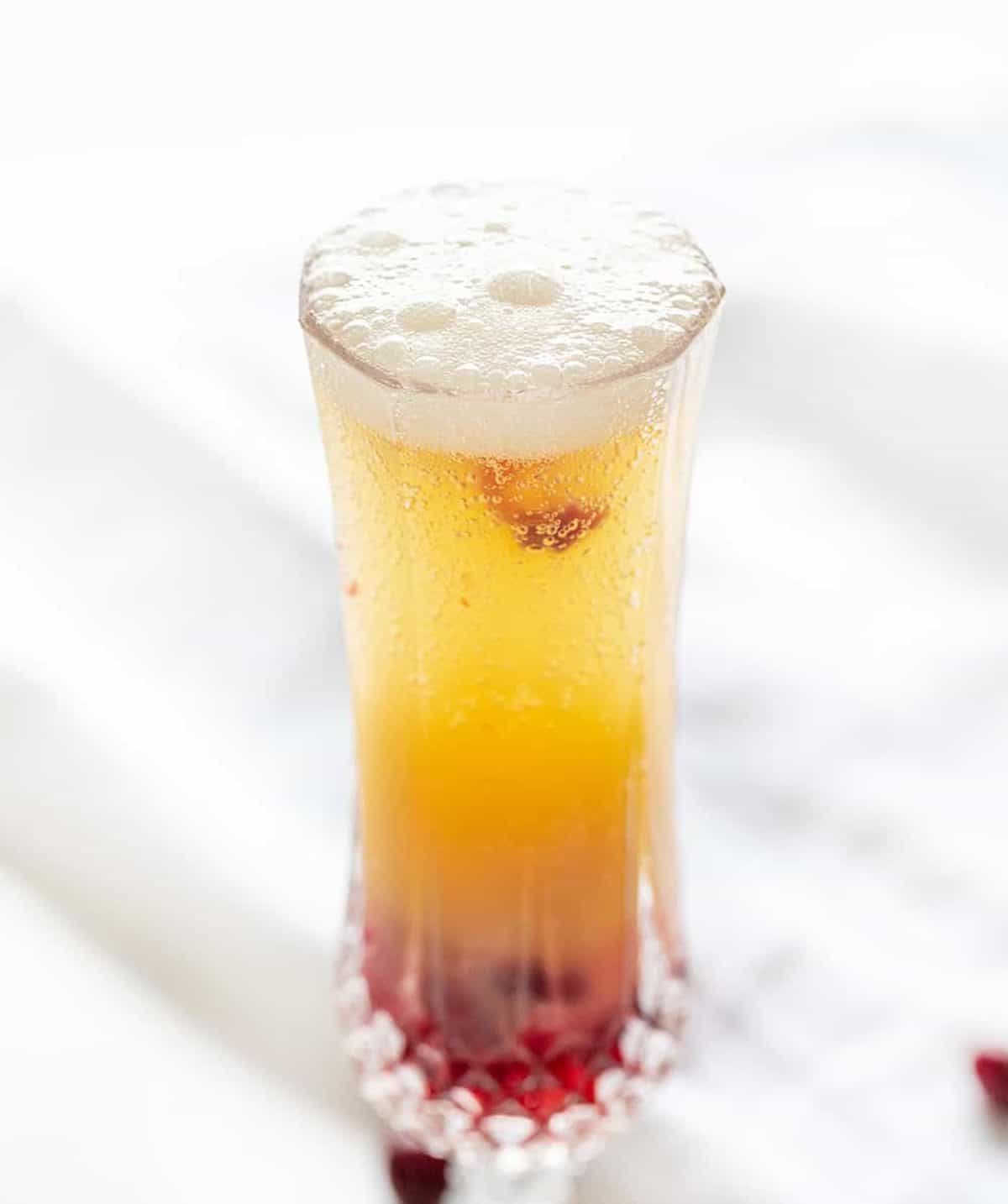 Mimosas, also known as orange champagne, have been a hair of the dog drink for many decades. They even have their own day, May 16th. But, don't wait until you have a hangover or May to enjoy this popular cocktail. By adding a cranberry syrup to the classic mix, you will have a Cranberry Mimosa that is sweet and tangy, with the all-important bubbles that mimosa is known for.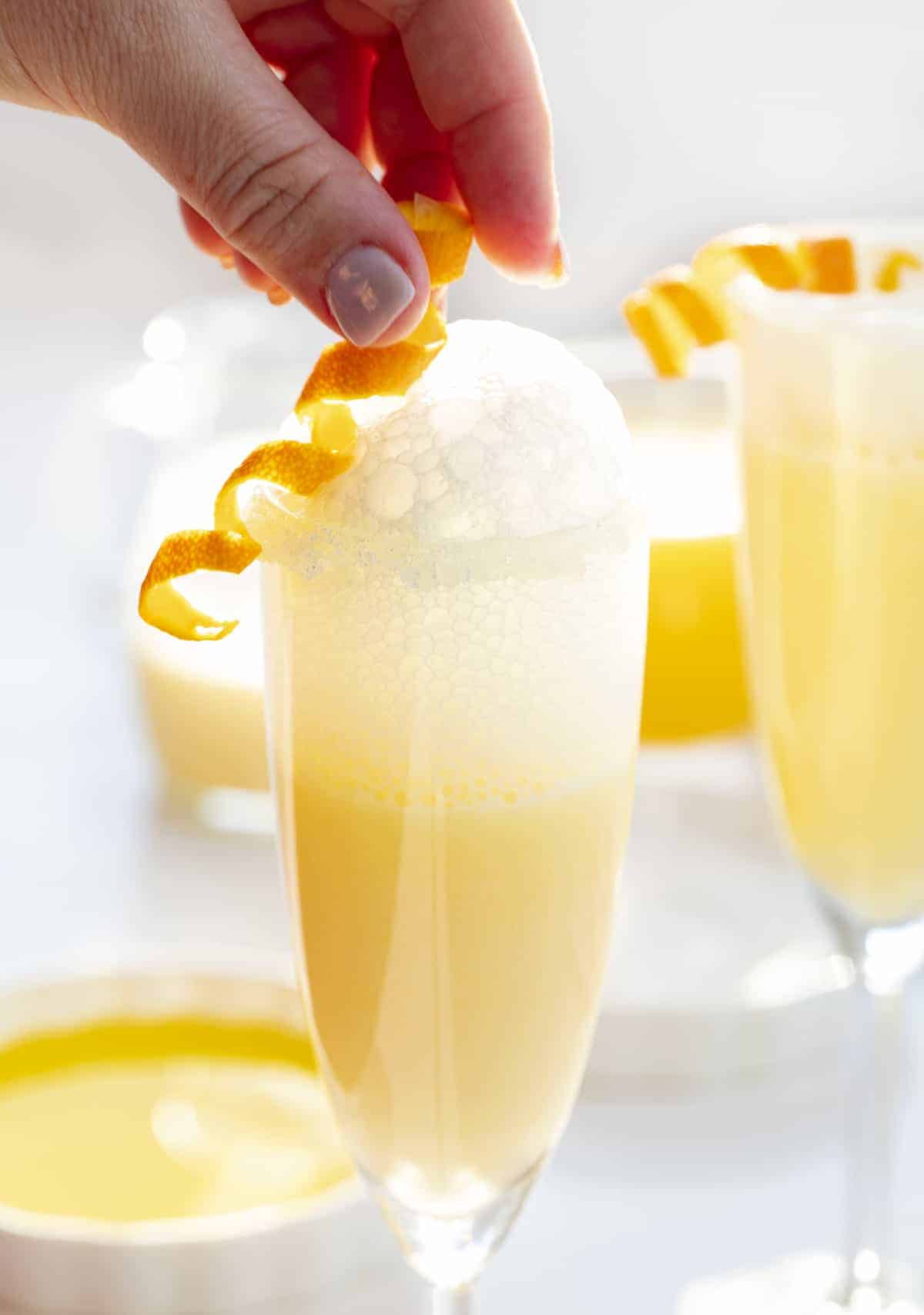 Creamsicle Prosecco is a refreshing cocktail made with orange juice and heavy cream, topped with Prosecco, and served in a sugar-rimmed glass. This recipe is a fun twist on a mimosa and adds heavy cream and simple syrup. This gives the drink a bit of sweetness and a creamier texture.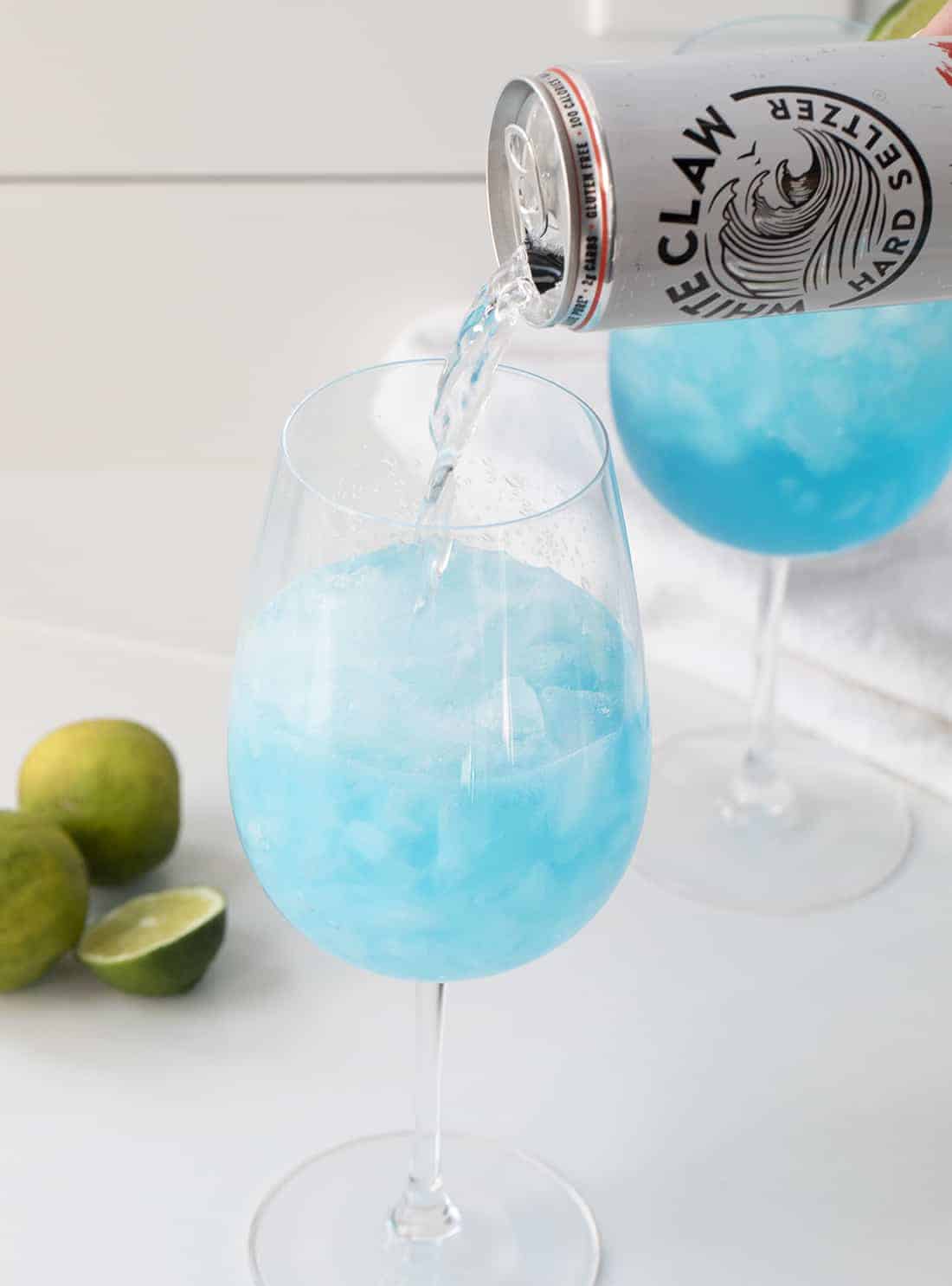 The name of this drink is enough to make you want to check out this alcoholic beverage. It is a drink that is made with vodka, Blue Curacao, simple syrup, lime juice, and flavored spiked sparkling water. The colorful drink will make you feel like you are relaxing on an island in the comfort of your own home!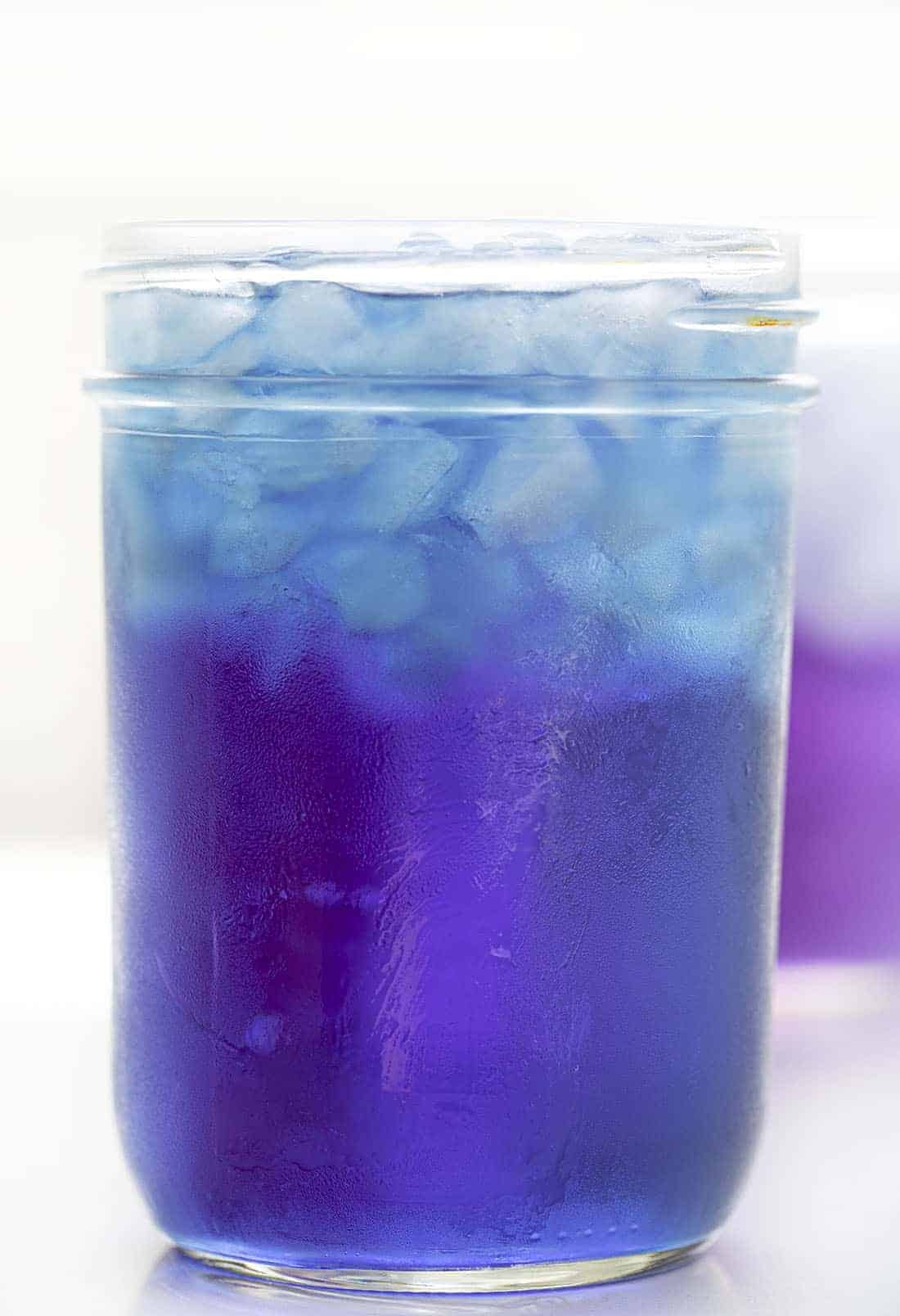 The Grimace Cocktail is a purple-colored alcoholic drink made with vodka, blue curacao, grenadine, and grape-flavored Powerade!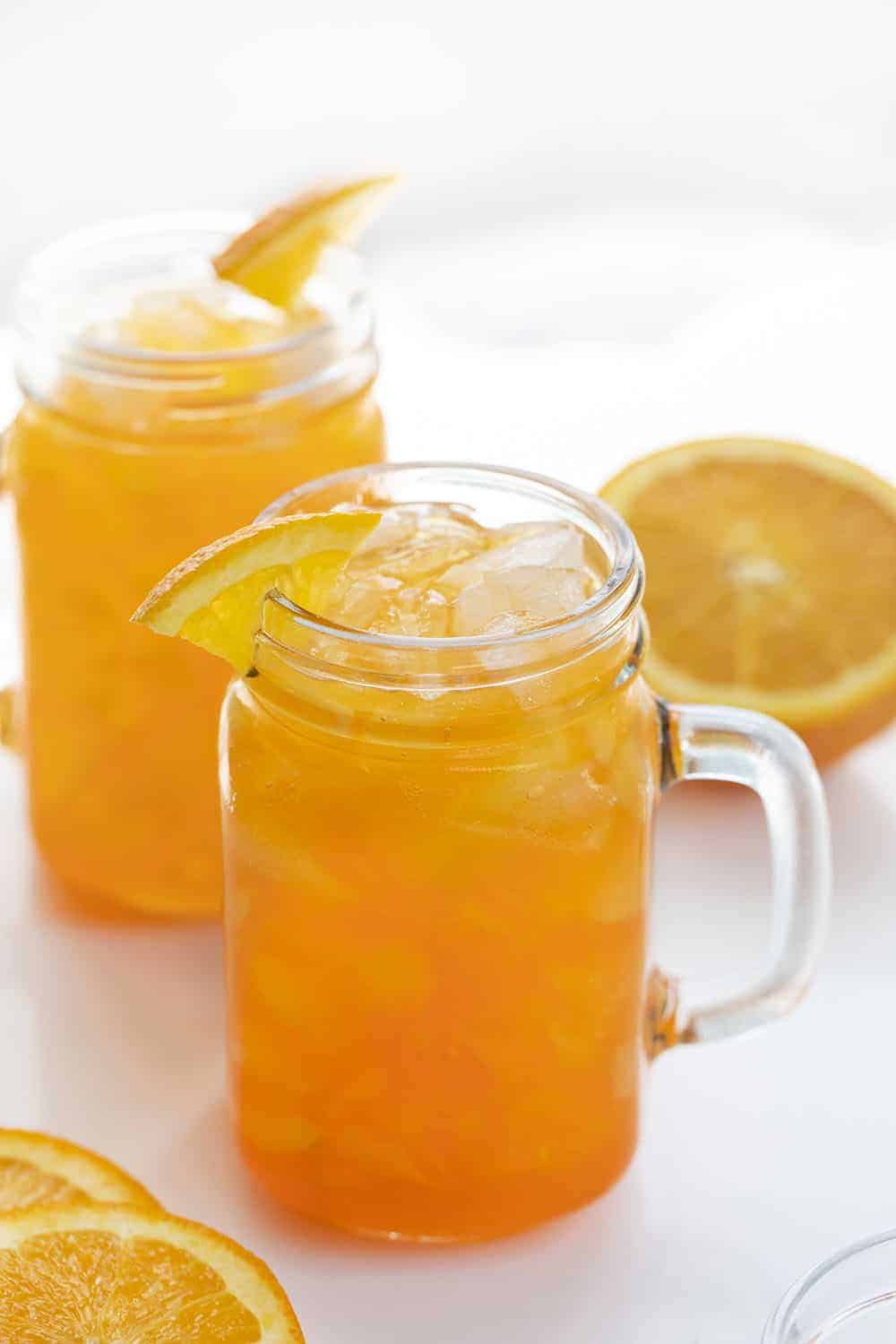 I remember loving Orange Crush soda as a kid. The carbonated beverage was one of my favorites growing up. This Orange Crush Cocktail gives you that same great orange, carbonated drink, but in an adults-only variety. You will feel like a kid when you make it with Kool-aid powder, but it is an alcoholic beverage for adults.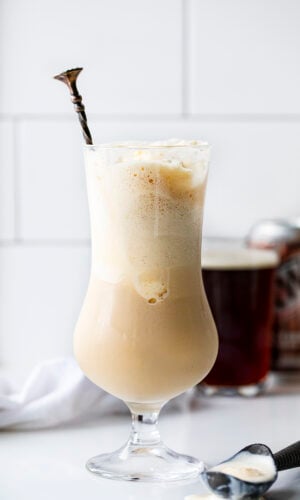 This sweet treat will make you feel like a kid again, or at least act like one! It's a root beer float for adults. It has RumChata added to it, which gives the treat a little more sweetness and adds some creaminess to it. Make the root beer float with no-churn vanilla ice cream and homemade whipped topping. 
I hope you enjoy your summer days and find this list helpful when you are craving an ice-cold beverage. Cheers!