Having an obsession with cheesecake cakes is not a good thing.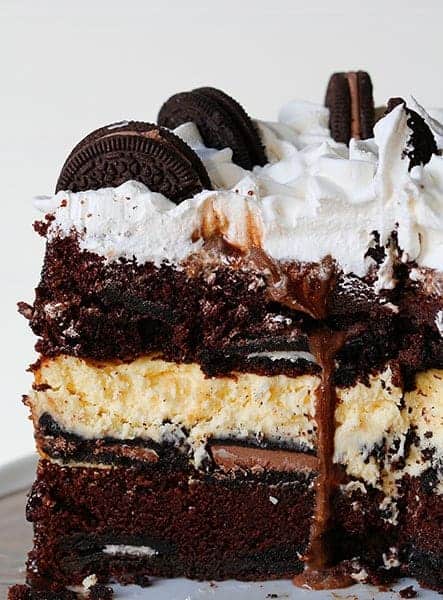 I mean, it's fine if you run 24 miles a day and can work off the calories.
And it's fine if you can dedicate hours in the kitchen to baking and assembling it.
But it's not fine if you are home alone with two kids under the age of 3 and they write on walls with permanent markers and the dog tracks in mud and you are the queen of eating your feelings.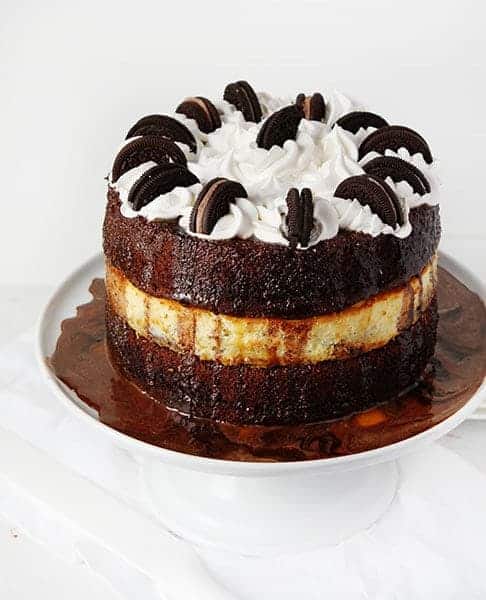 Admittedly, this is not the prettiest cheesecake cake! I made the last minute choice of thinning out the ganache because I really wanted it to soak into every single inch of the cake. While that worked amazingly well for flavor, it was not the best choice or aesthetic purposes.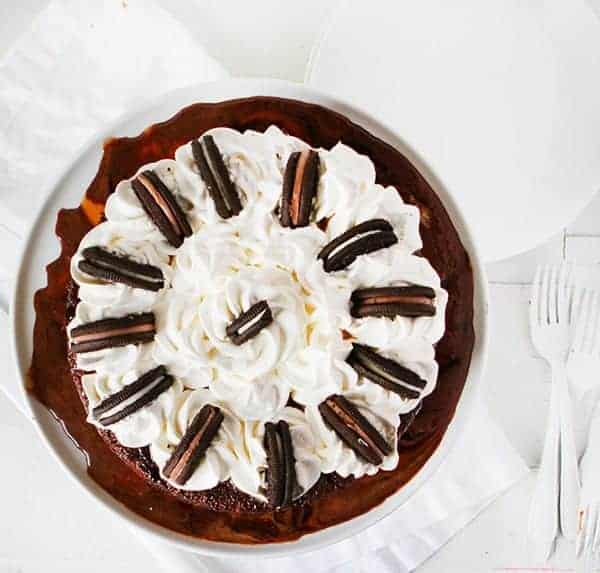 Tips for success:
I used Cool Whip® but you can certainly use homemade whipped cream.
Want a great tip for how to perfectly halve Oreo's? Using a butcher knife, gently set knife in cookie where you want to cut it. Then press HARD and FAST to cut through the cookie. The faster the better! This yields a nice clean cut cookie.
You can make this dessert of the course of a few days if needed. Bake the cake then wrap in plastic wrap and freeze until ready to assemble. The cheesecake can be baked and covered in the refrigerator until ready to assemble. I would prepare the chocolate ganache the day that you are serving.
I used chocolate and regular Oreo's® in this recipe but you can most certainly use any flavor you want. The flavor of the Oreo does not impact the flavor of the cheesecake cake too much. (unless you pick red velvet, that is a whole nother ball game)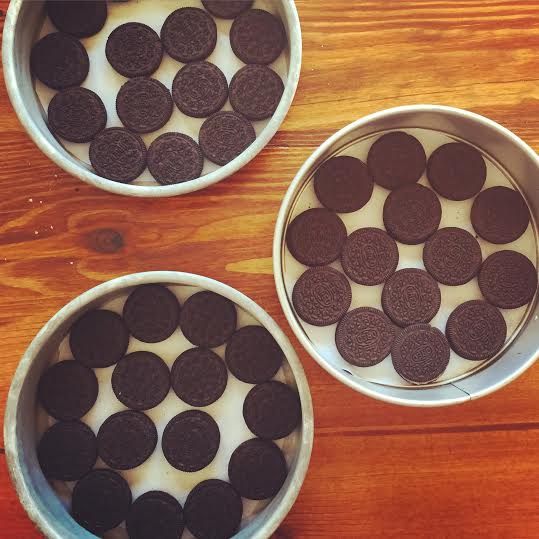 I used a spring-form pan for the cheesecake and 8-inch round cake pans for the cake. They are all sprayed (or use GOOP) and lined with parchment paper. Don't skip this step!
The Oreo's in the cake pans actually rose up to the top after I added the chocolate cake batter. The batter for my chocolate cake is quite runny so there is not enough weight to hold the Oreo's down. They did settle a bit while baking.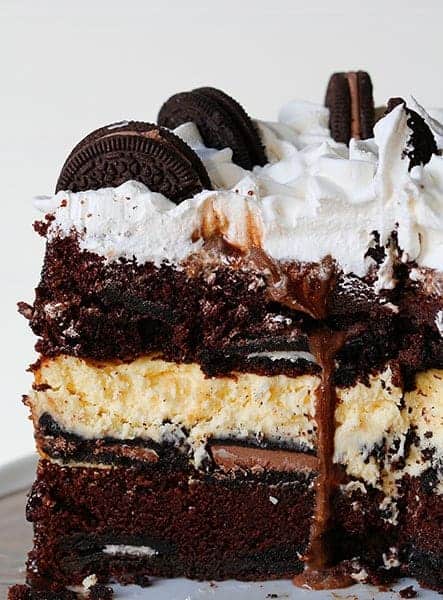 This is one of my favorite Cheesecake Cake's to date. Full of amazing flavors and textures, everyone can't help but want more!