Having an obsession with cheesecake cakes is not a good thing. Except when it is! This Oreo Cheesecake Cake is one you will want to make for every special occasion!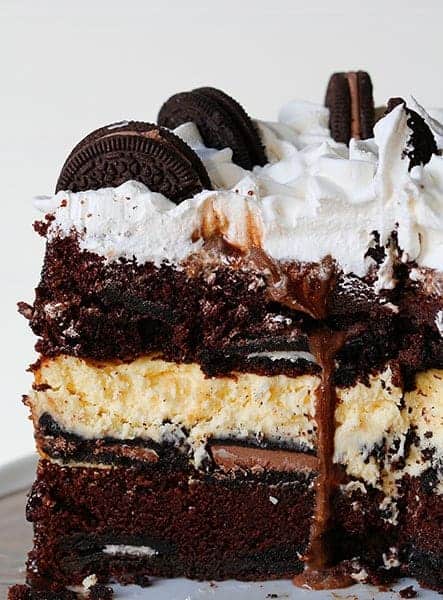 Oreo Cheesecake Cake
Layers of chocolate cake, cheesecake stuffed with regular AND chocolate Oreo's, and topped with whipped topping and more Oreo's! This is a dessert lovers dream come true!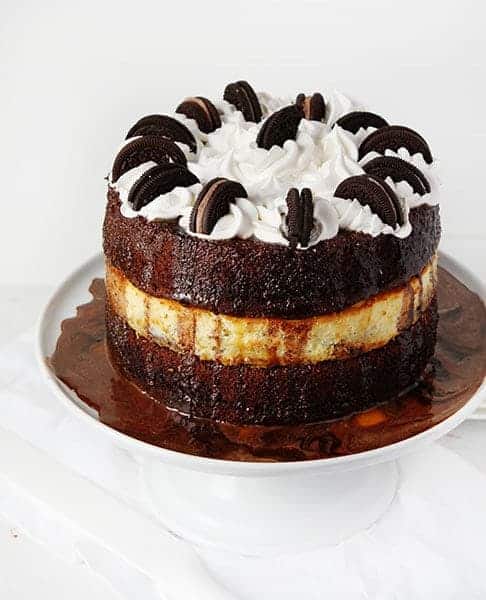 Admittedly, this is not the prettiest cheesecake cake! I made the last-minute choice of thinning out the ganache because I really wanted it to soak into every single inch of the cake. While that worked amazingly well for flavor, it was not the best choice or aesthetic purposes.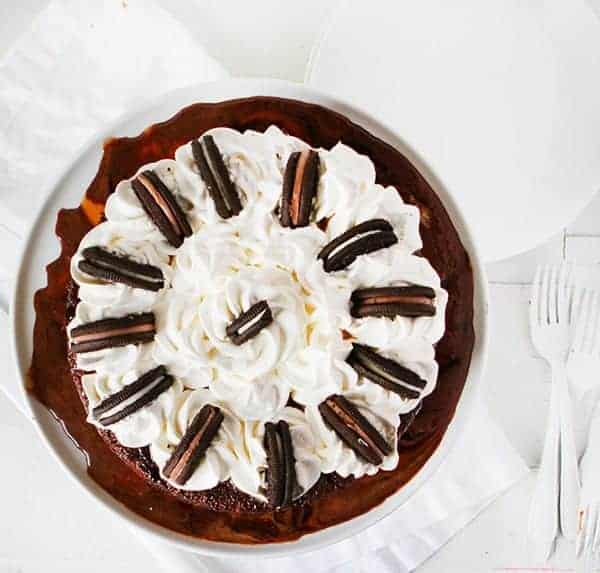 Tips for Oreo Cheesecake Cake
I used Cool Whip but you can certainly use homemade whipped cream.
Want a great tip for how to perfectly halve Oreo's? Using a butcher knife, gently set a knife on the cookie where you want to cut it. Then press HARD and FAST to cut through the cookie. The faster the better! This yields a nice clean cut cookie.
You can make this dessert of the course of a few days if needed. Bake the cake then wrap in plastic wrap and freeze until ready to assemble. The cheesecake can be baked and covered in the refrigerator until ready to assemble. I would prepare the chocolate ganache the day that you are serving.
I used chocolate and regular Oreo's® in this recipe but you can most certainly use any flavor you want. The flavor of the Oreo does not impact the flavor of the cheesecake cake too much. (unless you pick red velvet, that is a whole nother ball game)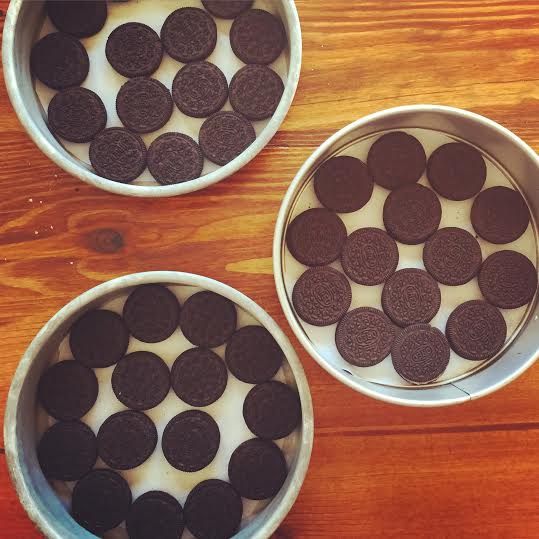 I used a spring-form pan for the cheesecake and 8-inch round cake pans for the cake. They are all sprayed (or use GOOP) and lined with parchment paper. Don't skip this step!
The Oreo's in the cake pans actually rose up to the top after I added the chocolate cake batter. The batter for my chocolate cake is quite runny so there is not enough weight to hold the Oreo's down. They did settle a bit while baking.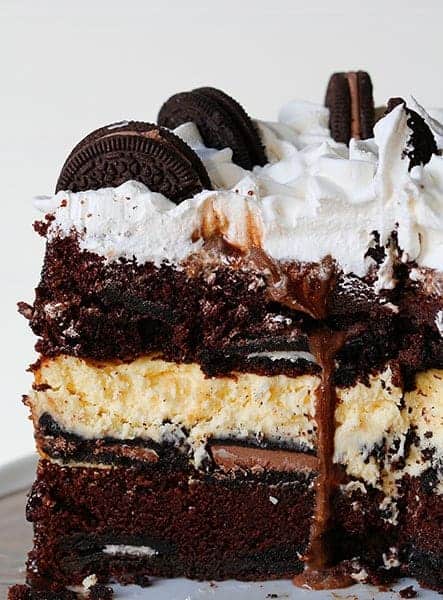 This is one of my favorite Cheesecake Cake's to date. Full of amazing flavors and textures, everyone can't help but want more!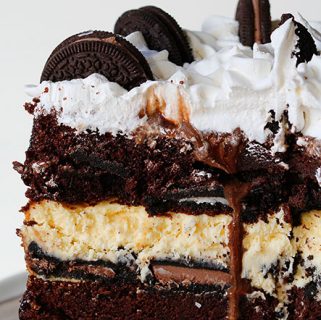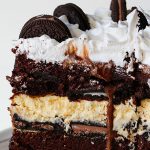 Oreo Cheesecake Cake
Having an obsession with cheesecake cakes is not a good thing.
Keyword:
Oreo Cheesecake Cake
Ingredients
Chocolate Cake
1 3/4

219g cups all-purpose flour

2

c

400g sugar

3/4

c

94g good unsweetened cocoa powder

2

tsp.

10g baking soda

1

tsp.

5g baking powder

1

tsp.

5g kosher salt

1

c

240g buttermilk

1/2

c

110g vegetable oil

2

extra-large eggs

at room temperature

2

tsp.

10g pure vanilla extract

1

c

249g freshly brewed hot coffee

30

Oreos for bottom of pans
Oreo Cheesecake
2

pkg

16 oz. of cream cheese, room temperature

1/2

c

100g sugar

2

large eggs

room temperature

1

tsp.

5g vanilla

13

Oreos
Ganache
6

oz

semi-sweet chocolate chips

3

oz

heavy cream

Cool Whip

Oreos for garnish
Instructions
Chocolate Cake
Sift the flour, sugar, cocoa, baking soda, baking powder, and salt into the bowl and mix until combined.

In another bowl, combine the buttermilk, oil, eggs, and vanilla.

With the mixer on low speed, slowly add the wet ingredients to the dry. With mixer still on low, add the coffee and stir just to combine, scraping the bottom of the bowl with a rubber spatula.

Prepare two 8-inch round cake pans with baking spray and line with parchment.

Arrange 15 (or however many fit) Oreos on the bottom of the pan.

Divide the batter between the prepared pans and bake for 35 to 40 minutes at 350 degrees F, or until a cake tester comes out clean.

Cool in the pans for 30 minutes, then turn them out onto a cooling rack and cool completely.
Oreo Cheesecake
Place cream cheese and vanilla into bowl of stand mixer. Mix on medium-low speed for 30 seconds. Add in sugar and eggs and beat until smooth. (3-5 minutes)

Scrape down the sides of the bowl if needed.

Prepare an 8-inch spring-form pan by spraying with bakers spray and lining with parchment.

Arrange Oreos on the bottom of the pan.

Pour the filling into the pan (over the Oreo's) and bake until set, 35-40 minutes at 325 degrees.

Set the pie on a wire rack and let it cool completely.

Refrigerate for at least 6 hours before assembling cake.
Ganache
Bring heavy cream to a boil and remove from heat.

With chocolate chips in a heat safe bowl, pour cream over chips and slowly stir until all chips are melted.

Let sit to cool and thicken.
Assemble Cake
Make sure cheesecake and cakes are very chilled.

Place one layer chocolate cake on cake stand. Try to get the side with the Oreo's to face down. (Oreo's on the bottom)

Gently place cheesecake on top of chocolate cake, again with the Oreo's on the bottom.

Place final layer of chocolate cake (Oreo's on the bottom) on top of the cheesecake.

Cover with cooled chocolate ganache.

Put Cool Whip® in a piping bag fitted with a closed star tip and pipe out dollops on top of the cake.

Press Oreos that have been halved into whipped cream dollops.

Keep chilled until ready to serve.