This show-stopping Snickers Cheesecake Cake is definitely meant for special occasions! It's so sweet you may get a tooth-ache! 😉 If you love decadent desserts be sure to head on over and look at this!
Snickers Cheesecake Cake
Layers of chocolate cake, snickers cheesecake, fudge sauce, caramel, whipped topping, and snickers candy of course! Think it's a mouthful to say? Just wait until you try a bite!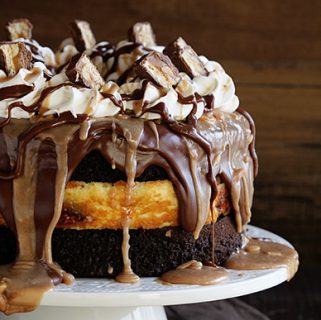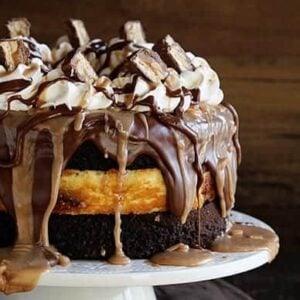 snickers cheesecake cake
This show-stopping Snickers Cheesecake Cake is definitely meant for special occasions! It's so sweet you may get a tooth-ache!
Keyword:
snickers cake, snickers cheesecake cake
Ingredients
Snickers Cheesecake
2

(8-oz.) packages of cream cheese,

room temperature

1/2

cup

(100g) granulated white sugar

2

large eggs,

room temperature

16

"fun size" snickers candy bars chopped (2 cups total)
Cake
1 3/4

cup

all-purpose flour

2

cups

(400g) granulated sugar

3/4

cup

unsweetened cocoa powder

2

tsp.

baking soda

1

tsp.

kosher salt

1

tsp.

baking powder

1

cup

buttermilk

1/2

cup

vegetable oil

2

extra-large eggs,

at room temperature

2

tsp.

McCormick® vanilla extract

1

cup

freshly brewed hot coffee,

can substitute hot water
Ganache
1

(12-oz.) package milk chocolate morsels

1/4

tsp.

salt

1

(14-oz.) can sweetened condensed milk

2

tbsp.

butter
Snickers Frosting
9

fun size Snickers bars

1

stick butter

room temperature

3

cups

confectioners sugar

1/2

cup

milk

Whipped Cream

I used Cool Whip®

4

extra Snickers® bars

chopped for garnish
Instructions
Snickers Cheesecake
Place cream cheese into bowl of stand mixer. Mix on medium-low speed for 30 seconds. Add in sugar and eggs and beat until smooth.

Remove bowl from stand and stir in chopped candy bars by hand.

Stuff face full of chopped snickers pieces and tell no one. Ever.

Prepare an 8-inch springform pan by spraying with bakers spray and lining with parchment.

Pour the filling into the pan and bake until set, 35-40 minutes at 325 degrees.

Set the pie on a wire rack and let it cool completely.

Refrigerate for at least 2 hours before assembling cake.
Cake
Sift the flour, sugar, cocoa, baking soda, baking powder, and salt into the bowl and mix until combined.

In another bowl, combine the buttermilk, oil, eggs, and vanilla.

With the mixer on low speed, slowly add the wet ingredients to the dry. With mixer still on low, add the coffee and stir just to combine, scraping

the bottom of the bowl with a rubber spatula. Pour the batter into the prepared pans and bake for 35 to 40 minutes at 350, until a cake tester comes out clean.

Cool in the pans for 30 minutes, then turn them out onto a cooling rack and cool completely.

(I prepared my cakes in two 8in round cake pans)
Ganache
Pour water to depth of 3 inches into bottom of a double boiler (or medium pan) over medium-high heat, and bring to a simmer.

Reduce heat to medium; place chocolate and salt in top of double boiler (or medium pan) over simmering water.

Cook, stirring constantly, 2 to 3 minutes or until melted.

Add sweetened condensed milk and stir constantly for 1 to 2 minutes or until blended and smooth. Remove from heat; add butter and stir 4 to 5 minutes or until smooth.
Snickers Frosting
Melt Snickers bars with 1 stick butter in a saucepan over very low heat. (about five minutes) Once melted, remove from heat and add

confectioners sugar (starting with 3 cups and adding more only if frosting seems to runny) then the milk.

Whisk until smooth.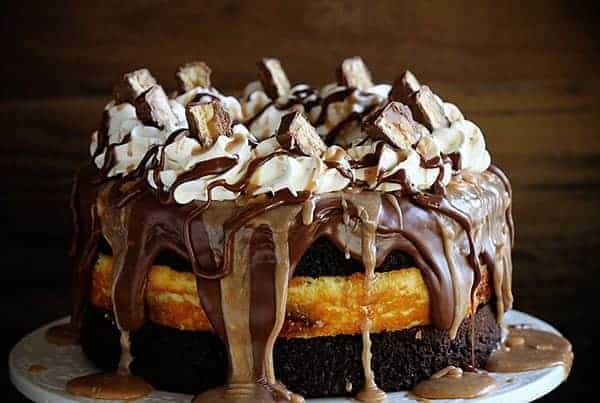 Snickers Cake
I recently had a conversation and it went something like this:
"MOM STOP!!!"
"What? What is it?"
"IT'S SPILLING EVERYWHERE!"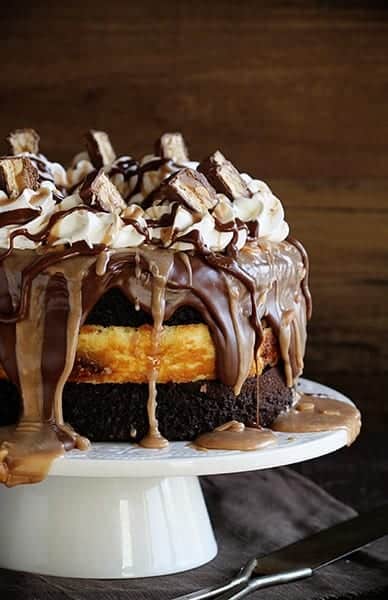 Yes, it most definitely is.
But I could not help myself. It was magical, that spilling forth of sugary sweet rich chocolate ganache and Snickers® frosting.
Yes, I said Snickers frosting. Poured on a cake. A cake with a Snickers cheesecake inside.
Sandwiched between layers of dark chocolate cake.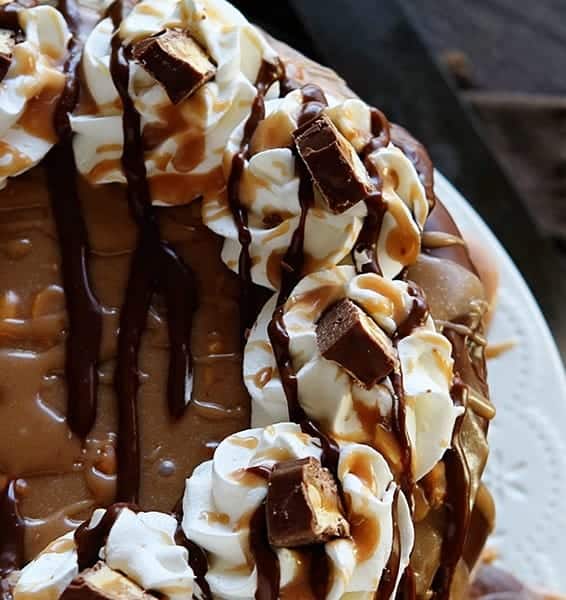 Then topped with whipped cream and more chocolate ganache and Snickers frosting.
I think this cake ranks right up there with one of the most over-the-top I have ever made. And I have made a few my friends.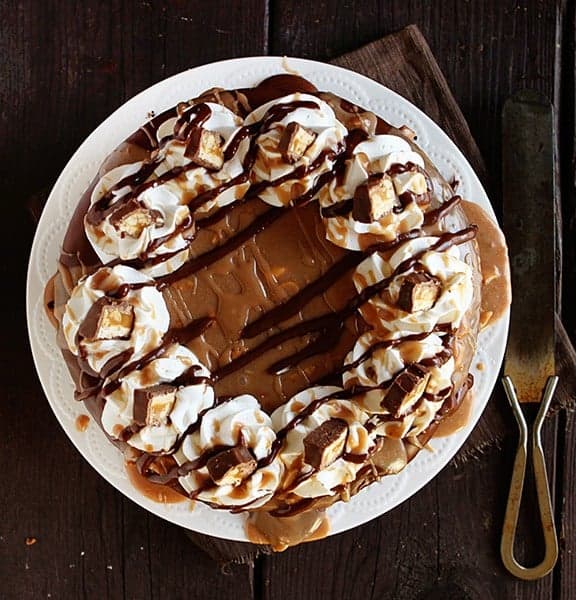 Recipes for a Snickers Cake
I believe the first one I ever made was actually more than 2 years ago – White Chocolate Cheesecake Milky Way Cake-, but not nearly as pretty as anything others are making!
Recipe adapted from Snickers® Bar Cheesecake Pie, Snickers® Frosting, Perfect Chocolate Cake.
There is a heck of a lot going on with this Snickers® Cheesecake Recipe, but it actually all went pretty smoothly. (Also, feel free to use a box mix for the chocolate cake; I recommend a Dark Chocolate)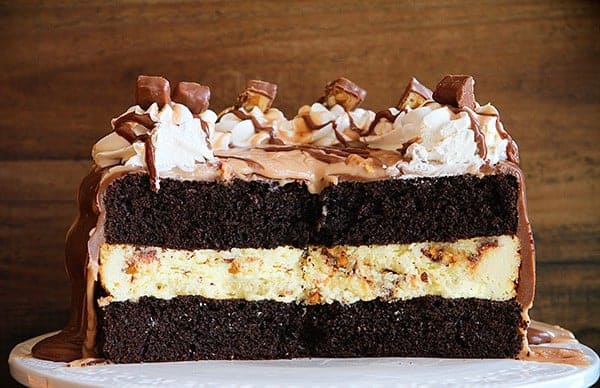 How to Make a Snickers Cake:
Prepare Snickers Cheesecake and allow to cool for a couple of hours.
Prepare cake and allow to cool for at least one hour. (30 minutes in the freezer)
Prepare ganache immediately after making the Snickers frosting.
Place one 8-inch layer of chocolate cake on the cake stand. Carefully place cheesecake on top of that. Set other layer of 8-inch cake on top of cheesecake.
Pour warm ganache over the cake and allow to spill over the sides. This is a THICK ganache: if that bothers you at all feel free to add milk or heavy cream, one tablespoon at a time, to reach your desired consistency.
Right after you have poured the ganache, gently spoon the Snickers frosting over the cake. This is much thinner and will run over the sides faster, so go slow and get a feel for how you want the cake to look.
Using an open star tip, pipe out dollops of whipped cream around the edge of the cake.
Using a fork (or a piping bag with a very small round tip) drizzle more ganache and frosting over the cake.
Insert a piece of candy bar into the top of each whipped cream dollop. Chill until ready to serve.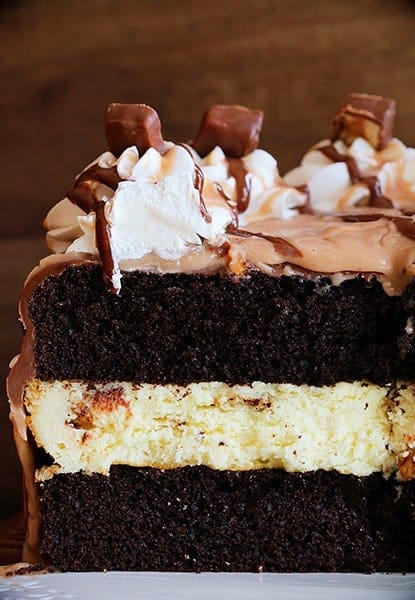 You will have some ganache and Snickers frosting left over, but I have a recipe coming up that I think will be the perfect use for those leftovers. Just in case I don't get them posted in the next couple of days here are a couple of ways to use it:
ice cream
any cake
with a spoon
I am here to help folks.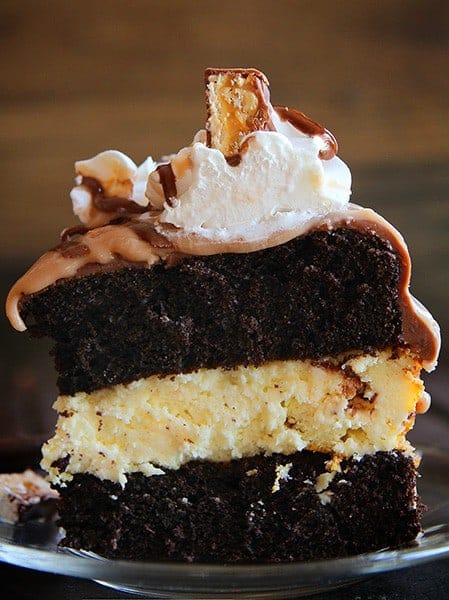 This cake is seriously amazing. I know I say that all the time, but that's because I can't tell a lie. 😉