Valentine's Day is all about love. It represents love for your partner, love for your family, friends, and even yourself! These recipes are perfect to share with those you love any time of the year, but especially on Valentine's Day.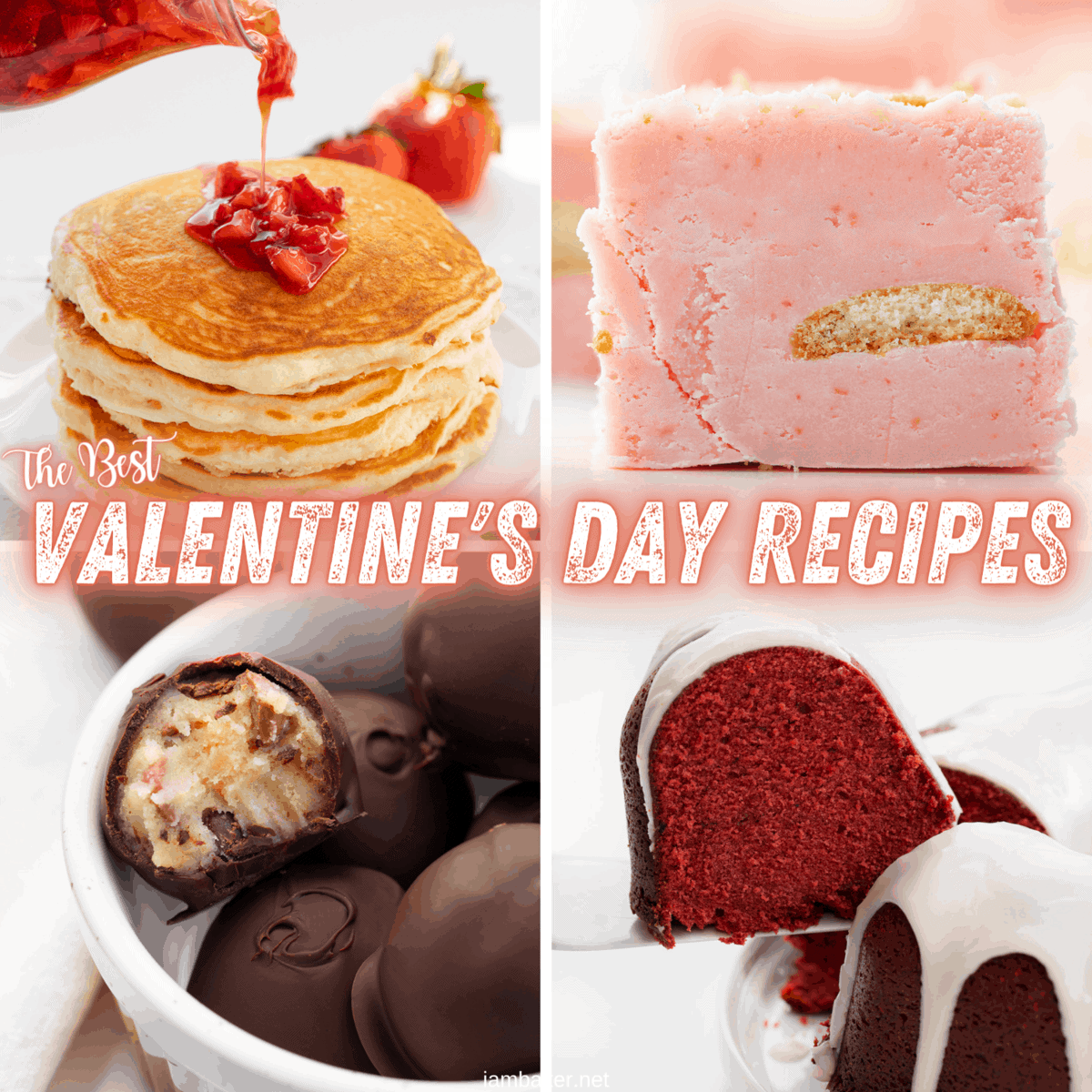 Valentine's Day
Valentine's Day is always on February 14th, no matter what day of the week it falls. There are a few stories about how we came to celebrate this mid-February day of love. One story is that a man named Valentine secretly held marriage ceremonies for soldiers who were banned from marriage by the emperor of Rome. (The emperor wanted the soldiers to focus on being soldiers.)
Once discovered, Valentine was killed on February 14th. But, right before his death, he supposedly wrote a love letter, a valentine, to his jailer's daughter. In the 5th century, February 14th was declared Valentine's Day. But, even before Valentine's day was declared, there were celebrations and festivities of love.
Today, over 20 billion dollars is spent on Valentine's Day. Instead of buying gifts, consider making something from the heart to show someone you care. These Valentine's Day recipes are a delicious and thoughtful way to express your love.
Strawberry Cheesecake Pancakes are fluffy pancakes filled with a swirl of cream cheese and topped with a homemade strawberry syrup. This is the perfect perfect breakfast recipe to impress your friends and family! Be sure to try my classic buttermilk pancakes for another amazing breakfast recipe! Strawberry Cheesecake Pancakes Indulge in the delicious taste of…
Whipped Cream Hearts are a unique and special touch to any dessert. This easy sweet treat is sure to impress your loved ones! Made with homemade whipped cream and shaped into hearts, this recipe is sure to be a hit. Whipped Cream Hearts Yes, it's easy to add a dollop of whipped cream onto a…
The Best Red Velvet Desserts
Ultimate Chocolate Cupcakes with the Ultimate Chocolate Frosting are delicious chocolate cupcakes topped with a smooth creamy chocolate frosting. These amazing moist chocolate cupcakes will be your new favorite! Try my Black Bottom Cupcakes for another delicious cupcake recipe! Ingredients & Substitutions Chocolate: I prefer using bars of chocolate, chopped, for this recipe. You can…
Death By Chocolate Pie is a chocolate lover's dream with its Oreo cookie crust and a creamy chocolate filling loaded with homemade brownie pieces and chocolate whipped cream. Try my Chocolate Cheesecake for another decadent dessert. Death By Chocolate Pie If any dessert will make chocolate lovers unite, this is it! It's a dessert that…
Unique Valentines Day Recipes
I hope everyone has a lovely Valentine's Day and you treat yourself to something sweet!