With Mother's Day just around the corner, show appreciation for the incredible moms out there by treating them to a delightful homemade brunch! From delicious baked goods to refreshing beverages, these recipes are sure to bring smiles to the faces of all the wonderful mothers in our lives.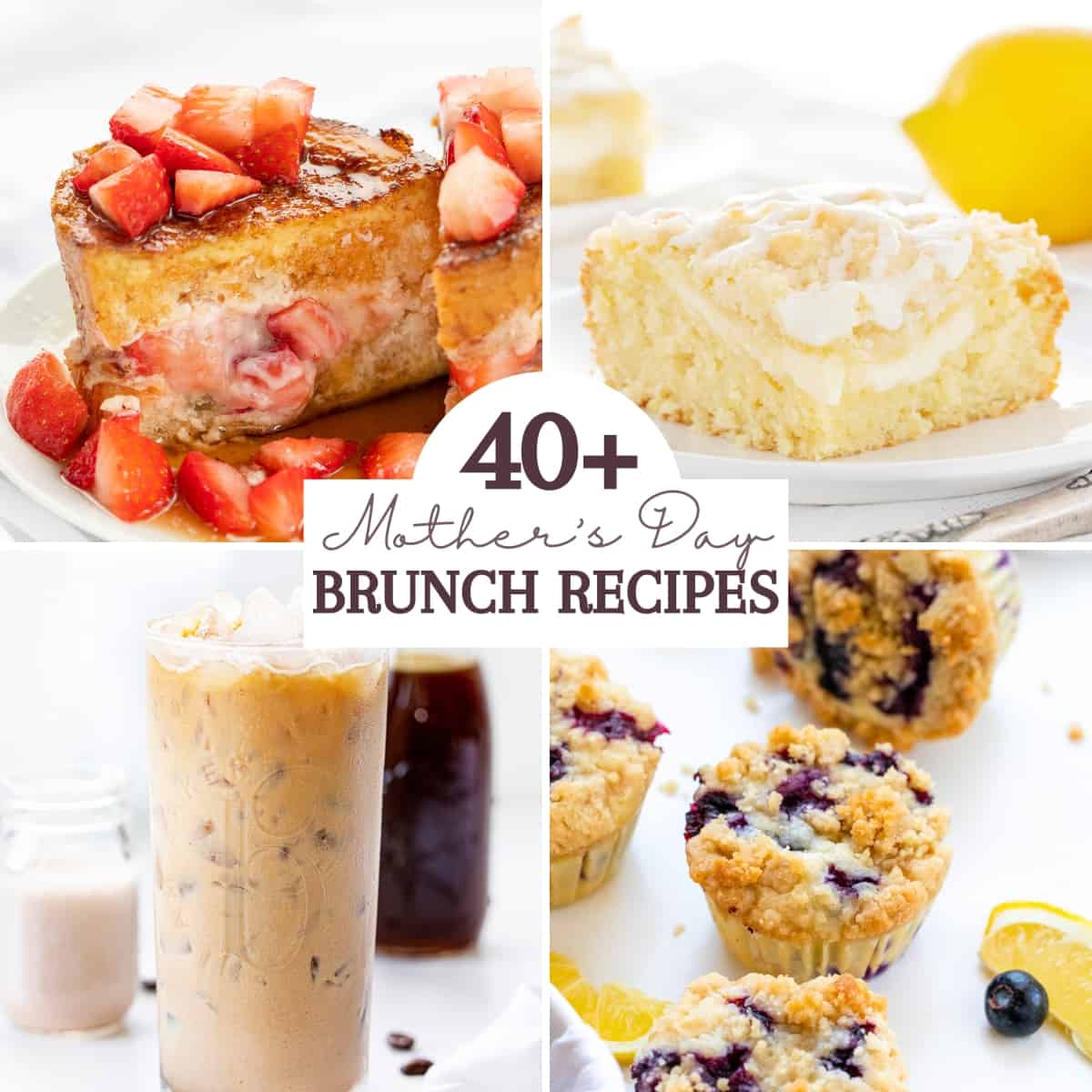 Pancakes, Waffles, & French Toast
White Chocolate Raspberry Scones are the perfect blend of white chocolate and raspberries mixed into the perfect scone recipe. With a few tricks and tips, you will not go wrong with serving this sweet breakfast or treat. Check out my original Scone Recipe for a no-fail, perfect scone every time! PIN IT HERE! White Chocolate…
This Breakfast Strata is a broccoli, mushroom, and cheese egg bake that is a good-for-you breakfast and is the best way to start any day. If you love breakfast as much as we do you might also like my Homemade Apple Fritters, Peanut Butter Banana Muffins, Puff Pastry, or my perfect Banana Muffins! What is…
Ooey gooey cheese, crispy hashbrowns, egg, and ham come together in a fabulous Breakfast Casserole!
Zucchini and Sweet Corn Quiche is both a breakfast and a savory dinner. It can be the fuel for your daily activities as well as a filling and satisfying meal at the end of the day. If you love eggs, try my Breakfast Skillet Spinach and Eggs. Zucchini and Sweet Corn Quiche It is still…
For even more egg dishes, check out these other family favorites:
These French Toast Bread Bowl's are AMAZING!
They are a fun and delicious twist on classic french toast and quite possibly the BEST version of French Toast I've ever tried! Not only is the bread bowl done to perfection, but it is literally a bowl you can fill with every ingredient you love!
It is a bit shocking how such simple ingredients come together to create such a flavor-filled and delicious treat!
Sweet Rolls & Breakfast Bread
Cinnamon Rolls will fill your house with the wonderful smell of freshly baked sweet rolls that are full of cinnamon and topped with a homemade whipped cream cheese frosting. Try my Quick Cinnamon Rolls or my Air Fryer Cinnamon Roll for the same great cinnamon roll taste! Cinnamon Rolls It made sense to add this…
Light and fluffy Raspberry Cream Cheese Rolls will be your new breakfast go-to recipe. Buttery soft dough filled to the brim with a delicious raspberry cream cheese mixture and smothered in a cream cheese glaze for an over the top finish. If you love a sweet breakfast treat, try my Orange Sweet Rolls or Quick…
Banana Cream Sweet Rolls are like a blend of sweet rolls, banana bread, and banana cream pie that are drizzled with a cream cheese glaze. If these sound good to you, be sure to check out my Cream Cheese Banana Bread. Banana Cream Sweet Rolls I love sweet rolls, and I have quite a few…
Donut sticks, also known as donut fries, are rectangles of fried dough and are the perfect snack for any donut lover. Dip them in a glossy glaze for a classic treat, or get creative and roll them in cinnamon and sugar, dust them with confectioners' sugar, or even add your favorite sprinkles or chopped nuts. I will also let you know how you can make these in the oven and an air fryer.
Apple Cider Donuts are homemade donuts made with apple cider and apple pie spice to give you the taste of apple in every bite! Try my Apple Cider Muffins for another apple spice treat. Apple Cider Donuts These homemade donuts are so homemade that they are even made with homemade apple cider and homemade apple…
I hope this lineup of recipes inspires you to create the Perfect Mother's Day brunch that will make your mom feel truly cherished. Here is to wishing you a wonderful Mother's Day celebration filled with joy, love, and scrumptious food!
And if you are wondering what to make Mom for dinner, might I recommend eating out? She gets to pick what she wants and there are no dirty dishes to clean up! 😂